A pulsating nation set on the tip of the Malaysian Peninsula, Singapore oozes with the passion to be a perfect all-in-one destination that reflects in its ever-evolving urban verve and modern sightseeings. Have you ever thought you can do something for free in Singapore?
A visit to Singapore gives you a chance to admire some of the most astonishing man-made and breakthrough architecture as well as places that are entertainment, shopping, and fun personified. A Singapore vacation is one of the most desired holidays among Asian destinations, but planning a trip here can be a bit rough on your wallet. Singapore is an expensive destination to visit and needs some meticulous forethought on which attractions to include so that your trip is cost-effective. Singapore is home to an assortment of budget-friendly attractions and sightseeing plenty of which are free to visit. While preparing for a holiday in Singapore, here are some budget-friendly ways to explore Singapore that will give you a worthwhile yet value-for-money experience.
A List of FREE Activities and Places in Singapore

1. Get awestruck by the Supertrees at Gardens by the Bay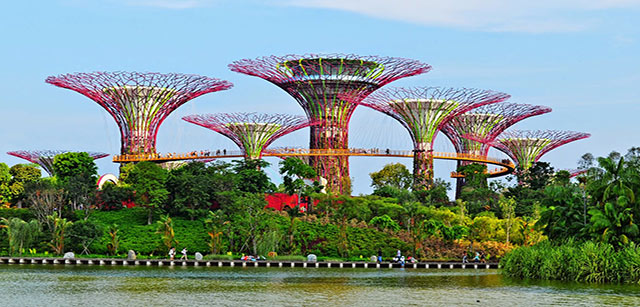 Admire the spectacle of giant man-made tree structures that are a part of Gardens by the Bay. The view of supertree Grove is something you cannot miss at the Marina bay skyline. A collection of soaring sky-high trees covered in a variety of plants, these surreal trees light up at night illuminating the skyline and giving you a feeling that you have stepped into another world altogether. You can wander through these enchanting giant trees at the Outdoor Gardens and also visit Bay East Garden, Sun Pavillion, Heritage gardens, World of Plants, and Dragon & Kingfisher Lake completely free as there are no entrance fees to these sites, however other attractions inside the Gardens by the Bay are chargeable. You can visit the Flower Dome and the Cloud Forest at $28 per person and the OCBC Skyway at $8 per person. The scene is so spectacular that it is one of the must-see landmark attractions to visit if you are in Singapore on your holiday. The stunning illuminated fusion of sound and light display during the nighttime is sure to take your breath away.
[ You may Like: Cheap Hotels in Singapore]
2. Watch the spectacular Marina Bay Sands show
One of the free things to do in Singapore, the Marina Bay Sands puts together fabulous water, sound, and light show every night for everyone to watch. Stroll around the Marina Bayside promenade and watch the night burst into a colorful spectacle of the illuminated melodies of dancing fountains. The best part is that you can enjoy this fantastic show without paying anything, as it is an open-air show designed to allure people to get a glimpse of the Marina Bay grandiose. The shows start at 8 pm and 9.30 pm, and on Friday and Saturday nights, there is an additional show at 11 pm.
3. Walk around the overgrown tombs at Bukit Brown Cemetery
The land where some of Singapore's illustrious citizens and founding fathers lay to rest, this green hillside cemetery is now a famous wildlife and nature spot. Hidden in one of Singapore's lush tropical green lands, the cemetery is one of Singapore's oldest cemeteries and a walk through its surroundings gives you some peaceful time with nature. It is a free Singapore attraction.
4. Marvel at Singapore's impressive temples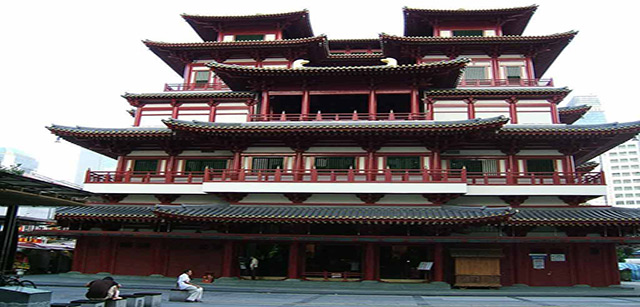 The ethnic arcade in Singapore takes you through the charming world of India and China where Singapore's multi-cultural essence fills in the ambiance. Here you can come across many old ornate temples of Indian, Chinese, and Buddhist origin with intricate colorful carvings which are worth visiting. Among the numerous Singapore temples you can visit here, Sri Mariamman temple is quite famous – it is the oldest Hindu temple in Singapore, though peculiarly set in China Town. The Thian Hock Keng is another renowned temple, the oldest Chinese temple in Singapore dedicated to the Goddess of the sea. Its remarkable architecture in the traditional southern Chinese style adorned with detailed carvings and sculptures of dragons lets you get an insight into the intricate and amazing Chinese artistry. Wander around these quarters and get a closer experience of different cultural spirituality and sacred places. There is also Buddha Tooth Relic Temple, a popular and peaceful sanctuary in the middle of Chinatown.
5. Indulge in some nature therapy at Singapore Botanic Gardens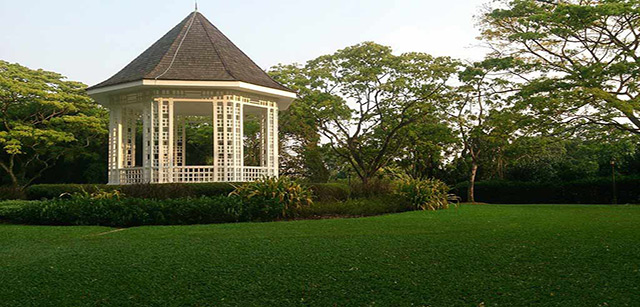 A national eco landmark – The Singapore Botanic Gardens is decades old patch of tropical rainforest tucked away amid the glitzy Singapore city. A refreshing getaway from the city buzz, this landscape features verdant green forests and gardens. This picturesque nature reserve is a great place to come across exotic plants, trees, and flowers, picture-perfect ponds dotted with birds enhancing the scenic settings such as black swans, pied hornbills, sunbirds, kingfishers, and a range of walking garden trails to explore various gardens like Heritage trail, Ginger garden trail, Rain forest trail. It is home to the National Orchid Garden which has the largest collection of orchid species in the world – a colorful memorable sight not to be missed. The entrance to the botanical garden is free however there is a charge of $ 5 per person for entry into the National Orchid garden.
6. Climb up the Fort Canning Park for mesmerizing views of nature and the city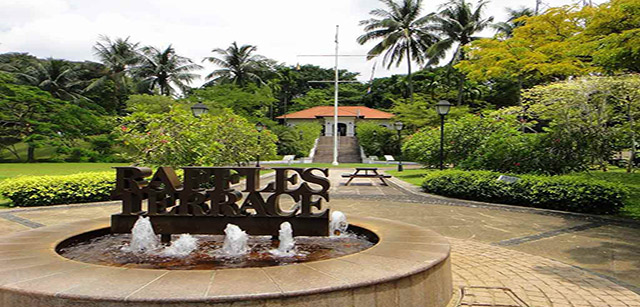 An iconic landmark of the city, this small green hilly area is one of Singapore's well-preserved heritage sites. Once a place of royal palaces and important historic sites, it is now converted into a nature zone where visitors can wander around free in Singapore, explore the heritage and natural landscapes on various walking trails, attend concerts and plays held on expansive green lawns, or simply spend some tranquil time surrounded by nature.
7. Photo stop at the Merlion
Another free thing to do in Singapore is to capture beautiful photos with the Merlion Statue, famous for its half-lion and half-fish hybrid look. It is the official mascot of Singapore. There are 6 Merlions that you could visit for free in Singapore. So, go track them all and explore the city without breaking your bank.
8. Visit wild dolphins at the Sisters Islands Marine Park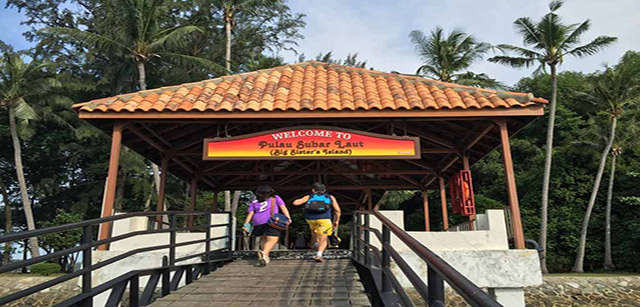 A tiny lush island just 15 minutes away from the city on a speed boat, Sister islands are Singapore's First Nature Marine Park. Catch up on some tropical sunshine and azure waters which are perfect for snorkeling as it also has Singapore's lush coral reefs. Stroll around on many of its walking tours or take a boat ride into the waters where you can even spot dolphins.
9. Stop by and see the Buddha Tooth Relic Temple
A museum cum temple set in Singapore's Chinatown, The Buddha Tooth Relic Temple is a splendid 4-story complex dedicated to the culture and teachings of Buddha built in Tang dynasty style architecture and designed with colorful murals and rich decors. The temple preserves religious relics reminiscent of Buddha and also houses a remarkably ornate statue of Buddha, all of which make this sacred place worth visiting.
10. Explore Singapore's ethnic enclaves on foot
Singapore is a medley of Asian cultures and there is no better way to experience this ethnic diversity than to stroll through its dedicated quarters set. Meander through the streets of Little India to discover the vibrant verve of India, brimming with bustling shops, street cafes, and divine temples. Take in the Chinese aura of Chinatown, dotted with spiritual temples, delectable Chinese street food and restaurants, and ancient Chinese medicine shops. You can wander around these surroundings without spending any money apart from splurging on activities that you would like to experience. These neighborhoods double up their vibrancy and come live with activities during festival seasons.
11. Catch a Free Movie in Open Air 
One of the most exciting free things to do in Singapore is to watch your favorite flick in the open-air cinema. There are several places throughout the island where the cinemas are played every fortnight and give you some nostalgic memories. Carry your mat and popcorn to make it a wholesome fun experience.
12. Take a walk at the Southern Ridges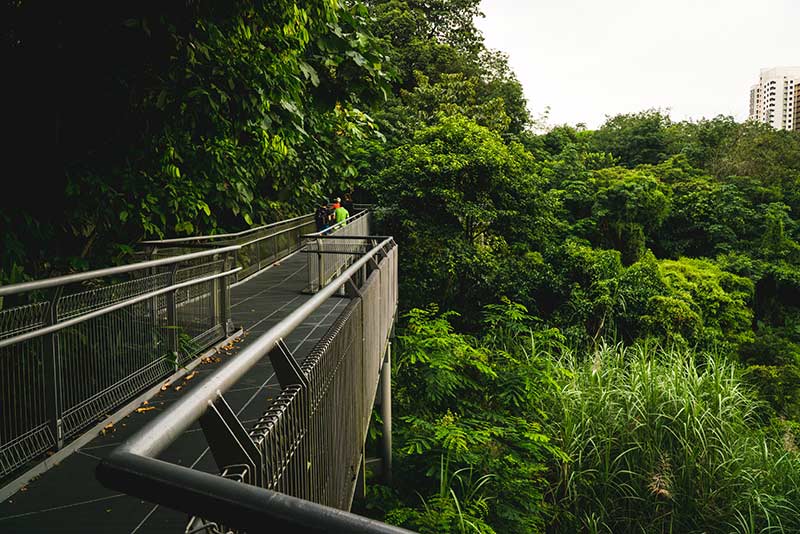 Singapore has a perfect balance between nature and manmade architecture. Southern Ridges is one of the jaw-dropping natural landmarks in Singapore that you can visit for free. Indulge in the beautiful surroundings, as you trek through the trail stretched between Mount Faber and the National University of Singapore (NUS).
[ Also Read: Trekking Trails in Singapore]
Conclusion
In recent years, Singapore has emerged as one of the most expensive countries for tourism in Southeast Asia, but there are plenty of ways to make it into a value-for-money destination as you can experience loads of cheap things to do in Singapore, loads of activities and places to visit which are free to explore. Singapore is known for famous attractions such as Universal Studios or Resorts World Sentosa which can put pressure on your wallet; there are many hidden little gems and free tours which will take you on a journey, unlike the usual holidays. You can also include these unique options along with your desired famous attractions so that you can experience the best of Singapore and these freebies will ease the strain on your travel budget to make your trip a relaxing and fun-filled trip to remember.