In the middle of Singapore, a charming district reeks of history and delicious food. Chinatown in Singapore is a unique neighborhood full of exotic sights, sounds, tastes, and fascinating customs. Let us go out on an adventure across this lively neighborhood and learn about all the exciting places we may see and things we can do.
Amazing Things to Do In and Around Chinatown Singapore
1. Learn about Singapore's rich Chinese history and culture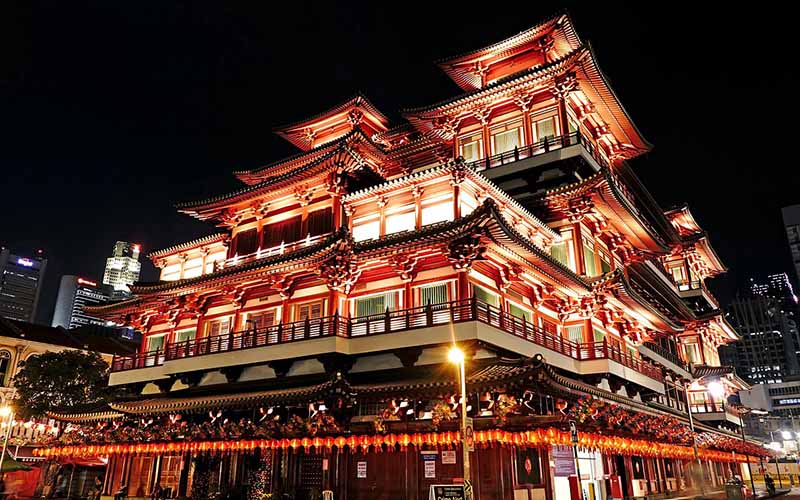 Start sightseeing by strolling down one of the many lively lanes with historical stores. The Buddha Tooth Relic Temple is a must-see, just one of many famous landmarks you can explore. Visit the Chinatown Heritage Centre, a hands-on museum showcasing early Chinese settlers' experiences. Experience the excitement of Chinese New Year and take in the bright decorations and lion dance performances that fill the streets.
2. Eat local food
Chinatown in Singapore is a paradise for those who love to eat. Eat through the Hainanese chicken rice, bak kut teh, and char kway teow at the world-famous Maxwell Food Centre. The many bakeries in the region are great places to try authentic Chinese delicacies like egg tarts and pineapple tarts. You can seek everything from dim sum to fiery Sichuan cuisine at the many hawker stalls at the lively Chinatown Complex Food Centre.
3. Browse handicrafts and souvenirs
Chinatown in Singapore is the place to look for cheap souvenirs and great deals. Wander the streets and stop at the various shops and market stalls selling trinkets, souvenirs, and regional specialties. Purchase some fine Chinese china, jade jewelry, or lucky charms as memories to take home. Pagoda Street is home to a thriving street market where you may get unique clothing, accessories, and other souvenirs at bargain prices. Be prepared to bargain if you seek.
4. Spectate and celebrate the local folk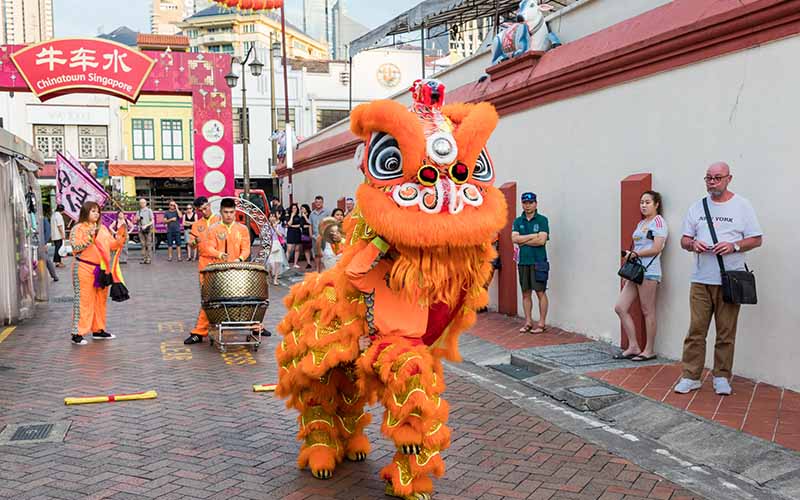 Catch a traditional performance at Chinatown Point stage or Kreta Ayer Square to fully immerse yourself in Chinatown's rich cultural tapestry. These performances highlight the range and depth of Chinese performing arts, from high-energy lion dances to elegant Chinese opera. Watch Wushu masters do amazing acrobatics or listen to the beautiful music played on ancient Chinese instruments. These fascinating exhibits not only entertain but also educate visitors about the history & culture of Chinatown.
5. Admire the Thian Hock Keng Temple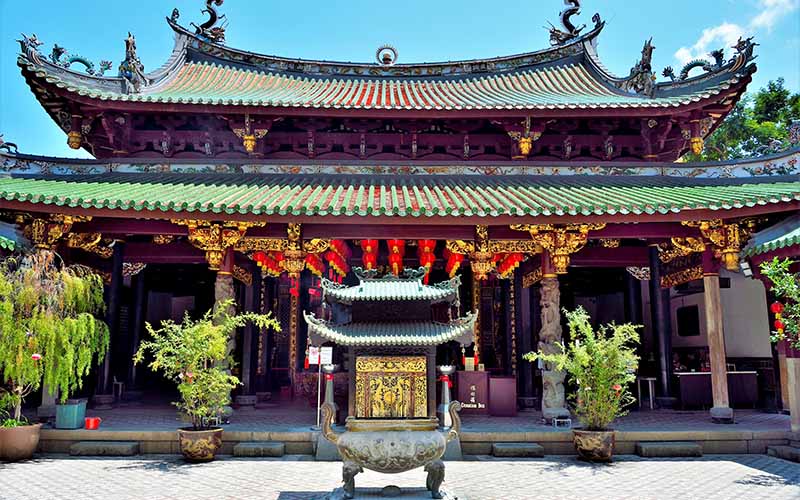 Stop by the Thian Hock Keng Temple, a Hokkien temple that dates back to the 19th century and is a stunning example of Chinese architecture. Explore this holy site and enjoy the beautiful architecture, vibrant ceramic tiles, and peaceful environment.
6. Visit the Chinatown Street Markets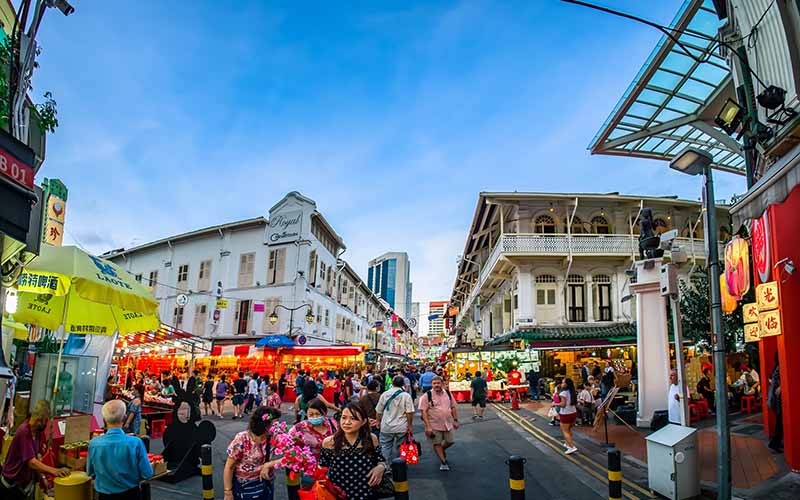 Pagoda Street, Trengganu Street, and Sago Street are all great options. These bustling marketplaces have a diverse selection of locally produced goods, antiques, clothing, and street food, creating an exciting and genuine shopping experience.
7. Take a Walking Tour
Participate in a guided stroll through Chinatown's historic streets and back alleys by signing up for a heritage walking tour. Discover the area's hidden treasures and cultural landmarks while learning about its rich history, unique architecture, and cultural significance.
8. Gain knowledge of Chinese herbs
You may taste traditional Chinese medicine at one of Chinatown's many clinics. Consult a traditional healer who can employ herbs, acupuncture, and other ancient practices to restore your health and equilibrium.
9. Participate in a typical Chinese Tea ritual
Go to a teahouse in Chinatown and participate in a typical Chinese tea ritual. Discover the history and significance of tea in Chinese culture as you learn how to make various types of tea and sip on some delicious samples.
10. Partake in Festivals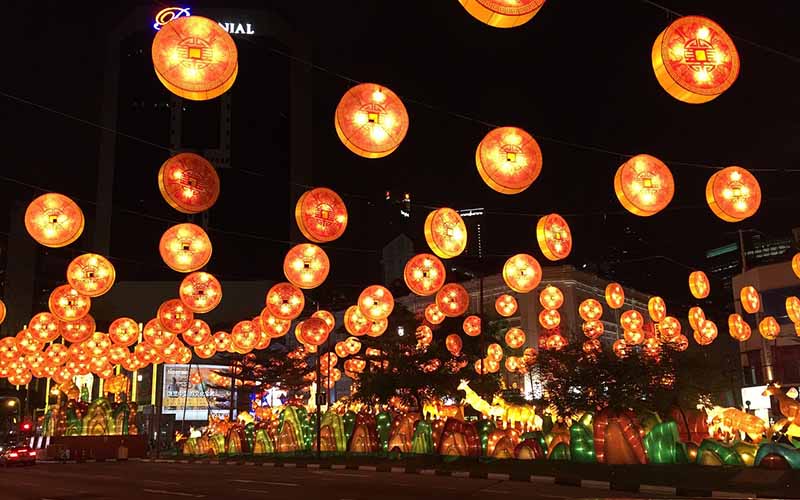 The Mid-Autumn and Lantern festivals are only two of the many holidays celebrated in Chinatown throughout the year. Please participate in the festivities, admire the lanterns as they are lit, and enjoy the seasonal treats and shows.
11. Learn About Chinatown's Hidden Bars and Speakeasies
Chinatown is a hotspot for underground drinking establishments. Explore mysterious rooms behind seemingly ordinary doors and sip specialty drinks in one-of-a-kind, moody ambiances.
12. Get pampered and rejuvenated
Visit one of Chinatown's many reflexology facilities for a relaxing foot massage to help you unwind and recharge. Relax and allow trained therapists to work magic to restore your body and mind.
13. Check out the off-beat markets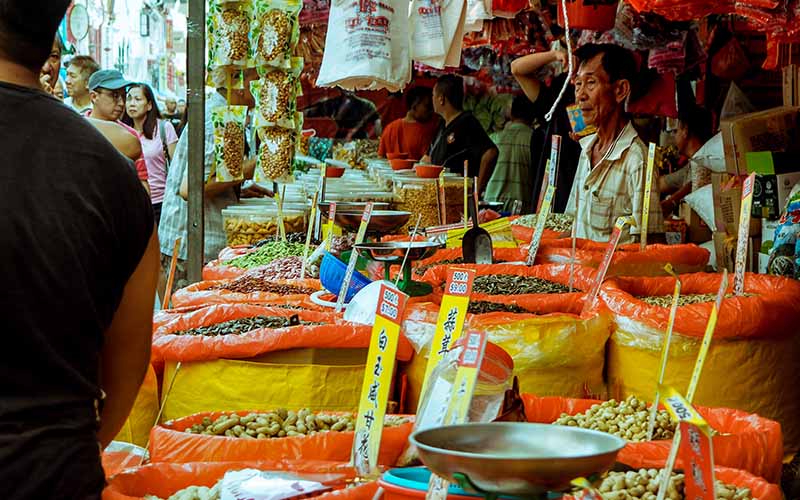 Besides being a veritable gastronomic paradise, the Chinatown Complex also features several stores, markets, and cultural events. Visit the wet market, shop for Chinese herbs and supplies, or enjoy the energetic environment.
14. Attend workshops
Chinese knotting, paper cutting, and calligraphy are just a few of the ancient arts that may be learned in Chinatown's many workshops and classes. Take part in these interactive events and make a memorable keepsake.
FAQs about Chinatown for tourists:
1. In Singapore, where exactly is Chinatown located?
Chinatown is in the heart of Singapore, close to numerous public transportation options. Take the MRT to Chinatown station (NE4/DT19), or use one of the many nearby bus stations to reach your destination. Transportation options, including taxis and ridesharing services, are easily accessible.
2. When is the optimal time to explore Singapore's Chinatown?
The Chinese New Year & the Mid-Autumn Festival bring an especially festive air to Chinatown, but the neighborhood is always lively. If you would like to avoid the crowds, weekdays and mornings are typically better than weekends and evenings.
3. What are the best meals to order in Singapore's Chinatown?
Delicious cuisine can be found all across Chinatown in Singapore. Hainanese chicken rice, pork rib soup (bak kut teh), stir-fried noodles (char kway teow), dim sum, and traditional Chinese sweets are all must-tries. Vegetarian and vegan menus exist at many restaurants.
4. For someone who has never been to Chinatown before; are there any particular norms I should follow?
Dressing modestly and considering cultural norms are essential considerations when visiting Chinatown. Wear respectful attire, remove your shoes if asked, and leave your camera at home if taking pictures is frowned upon when visiting temples or other holy sites. When photographing people, especially at events like festivals or performances, it is considered polite to first ask for permission.
5. What are the cool places to visit in the area besides Chinatown Singapore?
Chinatown is in a prime location, close to many of Singapore's best sights. Clarke Quay, Boat Quay, and Merlion Park are just a few places you can see and visit along the Singapore River. From Chinatown, you can easily visit the bustling Orchard Road shopping district and the renowned Gardens by the Bay.
Conclusion
Chinatown in Singapore is an adventurer's dream, where history, culture, and delicious cuisine come together in perfect harmony. Whether you are a history buff, a foodie, or just looking for a cultural immersion, this bustling neighborhood will not disappoint.