Singapore is one of the costliest cities in the world that is famous for its lush green ambiance, ancient temples, smoky rainforests, tree-decorated streets, towering skyscrapers, opulent shopping malls, and a diverse population. A holiday in Singapore can easily overshoot your budget as it is one of the hot tourist destinations in the world. Accommodation takes a significant chunk of your budget whenever you are on holiday.
Selecting the right hotel as per your budget can help you discover the right balance between leisure and funds. There are several cheap hotels in Singapore that can comfortably fit within the shoestring budget of travelers from different parts of the world. These cheap hotels in Singapore are set in a convenient location easily accessible to all major parts of the city and range from £60 – £150 a night. And not to worry, these hotels are equipped with modern amenities that will help you get a comfortable and a cozy environment to spend your night.
Budget Hotels in Singapore that Won't Break Your Bank
1.Ibis Singapore
Placed in the neighborhood of Bugis, the bustling business center and shopping district of Singapore, the Ibis Singapore on Bencoolen has a laid-back and casual ambiance associated with it. An affordable and cheap accommodation that is equipped with modern rooms that are furnished with features like Wi-Fi, minifridges, electronic safes, tea and coffee maker, flat LCD television sets, etc. Guests with upgrades rooms have free access to the on-site gym as well. The location is the standpoint highlight of the hotel. Set within ten mins walking distance away from the shopping hub, the Orchard Road, Singapore Botanical Gardens, and China Town. You will never be short of tourist attractions at a stone's throw away distance. The hotel guests are also provided a 3G Smartphone that can be used in Singapore, free umbrellas, and bamboo bicycles. This modern hotel also houses a restaurant cum bar along with meeting & conference rooms. A standard room costs roughly about $ 90 a night, that is approximately 6000 Indian Rupees.
2.Fragrance Hotel-Emerald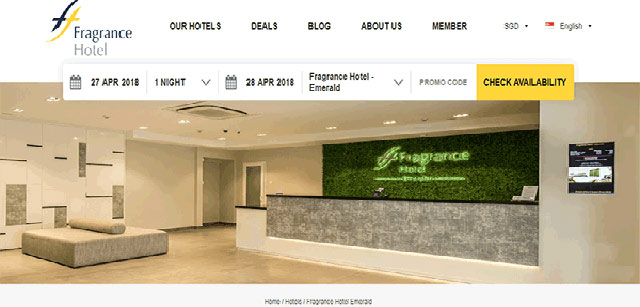 The Fragrance Hotel-Emerald is surrounded by famous local eateries along the busy Geyland District at a short distance from the iconic Orchard Road. There are several tourist attractions like the Singapore Flyer, Kallang Leisure Park, and the Suntec city that are in close vicinity of this hotel. Being well connected to the Changi International Airport and the Kallang MRT Station gives guests quick and easy access to other checkpoints in the city. All rooms are furnished with modern amenities like air-conditioning, tea & coffee maker, hot shower, laundry services, luggage storage, LCD TV sets, and free onsite parking. A standard room costs about $69 – $102 a night, that is around 4000 Indian Rupees.
3.Porcelain Hotel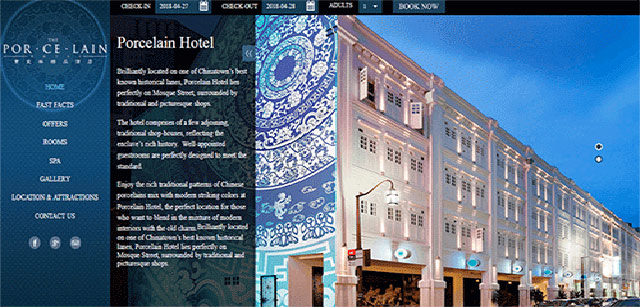 Set on the Mosque Street, one of the ancient lanes in Chinatown, the Porcelain Hotel is nestled among traditional and picturesque shop houses that is an accurate reflection of the diverse cultural history of the enclave and also home to delicious oriental food in the region. This beautiful boutique hotel is an ancient colonial building placed at walking distance from the iconic Gardens of the Bay waterfront park. All the rooms in this boutique hotel are furnished with luxurious traditional patterns of Chinese porcelains and given a modern twist to its interiors. There is no short of elegance and charisma to this ancient colonial building. All the rooms are equipped with advanced features like Wi-Fi, electric kettles, toiletries, hair dryers, safety electronic deposit boxes, etc. along with laundry & dry cleaning services at a nominal cost. You can try out the invigorating massage and spa services offered to the guests. A standard room in the hotel costs about $ 95 to $ 146 a night, roughly around 9000 Indian Rupees.
4.The Little Red Dot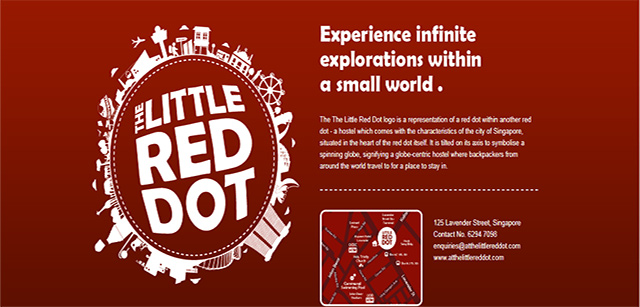 Placed in the center of Kallang district, @The Little Red Dot is easily accessible from the airport and in proximity to major tourist attractions like the City Square Mall, Sakaya Muni Buddha Gaya Temple, Scuba Corner, and much more. Surrounded by a lush green ambiance and a games room helps guests and visitors unwind themselves after a busy day out. All the rooms are equipped with modern amenities like WiFi, luggage storage, express check-in & check-out, electronic safety lockers and deposit boxes, lounge area, TV Sets, library, etc. A standard room costs about $ 14 – $ 41 a night that is around 2500 Indian Rupees.
5.Wink Hostel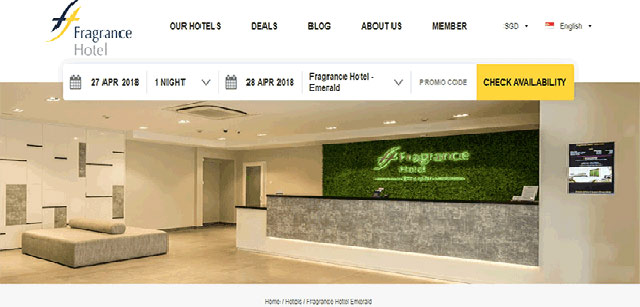 This Three-storey old shophouse serves as cheap accommodation in Chinatown for travelers who have a shoestring budget in place. Major tourist attractions like the Clarke Quay, Club Street, Gardens by the Bay, Formula 1 Grand Prix Night Circuit, Marina Bay Waterfront are easily accessible from this charming ancient hostel. Guests can get a vibrant feel of the fantastic nightlife of the city and at the same time catch up for a quick bite at various tea shops, restaurants, shopping malls, and restaurants in its vicinity. With the Chinatown MRT station located at a stone's throw away distance from the hostel, you need to find serious reasons for avoiding this affordable and cheap accommodation in the heart of the city. Guests are offered open-front sleeping pods, dorms, a shared dining & kitchen area, an experience in itself. One of the best ways to interact with the locals and meet new people in an unknown city. A standard room costs about $ 35 – $ 79, which is around 5000 Indian Rupees.
There is no short of captivating tourist attractions and cheap hotels in Singapore. The above list may not be the entire list of affordable accommodation available in this city-state, but it gives you an idea that a holiday in Singapore is well within your budget.