Singapore is one of the modern nations in the world, and its futuristic landmarks are evidence of the same. But, what stands out are the natural landmarks Singapore that has stood the testimony of time and still carry the elegance and charm. We bring you some of the natural landmarks Singapore that continues to woo the audience even today.
Best Singapore Natural Trails, Parks and Wonders
1.MacRitchie Nature Trail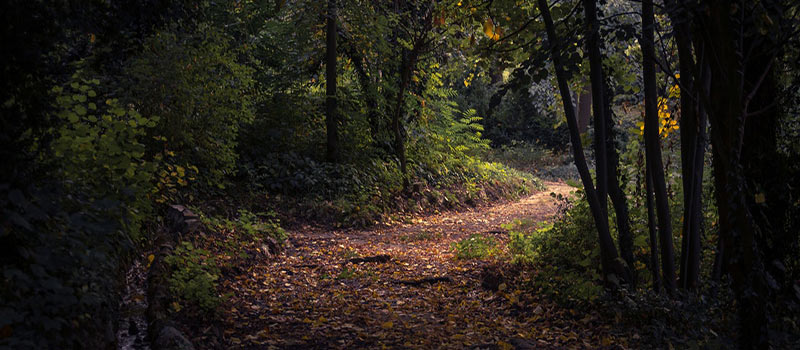 A nature lover's delight and many have fondly referred to as an activity in paradise. Spread lavishly over three kilometers of land featuring tropical rainforests, the 12-hectare MacRitchie Reservoir Park, and the Singapore Island Country Club. Standing amidst a lush green environment, this is the perfect place to dig deep to gain more insight into rainforests. So whether you want to indulge in a jog or explore the best-kept secrets or dive into the abundant water sports opportunities, the MacRitchie's Nature Trail is a perfect getaway from the bustling city life. Rent a canoe or a kayak and head to the challenging 3.2 kilometers and 4.8-kilometer trail. Keep your camera handy and ready always as there would be several precious moments to be captured on your journey. Open from 7 am to 7 pm daily, there is no entrance fee for visiting the MacRitchie Nature Trail. If you wish to discover a new face of Mother Nature, try the Treetop Walk that would give you access to a 250 meter long suspended bridge over a canopy of trees in the region.
2.The Southern Ridges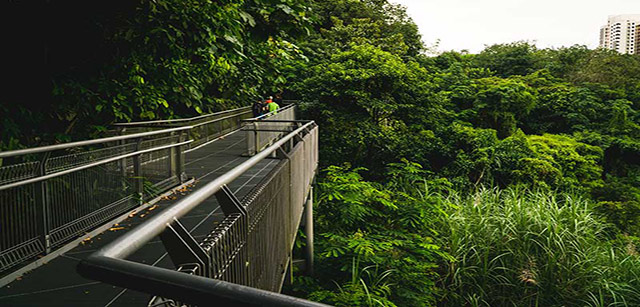 This historic area is one of the greatest gifts of Mother Nature to Singapore. Blessed with abundant stunning natural vistas, the Southern Bridges acts as a network connecting the Kent Ridge Park, Telok Blangah Hill Park, Labrador Nature Reserve, and Mount Faber Park. Spread lavishly across 9 kilometers in land area, visitors and tourists get access to some breath-taking views across the city-state. Capture the precious moments as you set your exploration skills to test along with your journey. Some of the highlights of the bridge include the Hilltop, Canopy, Forests Walks, and the distinct Henderson Waves, the highest bridge resembling a wave-like structure connects Mount Faber Park and Telok Blangah Hill Park. Do explore the 5.61-hectare Berlayer Creek during your journey, one of the two remaining mangroves in Singapore.
3.Bukit Timah Nature Reserve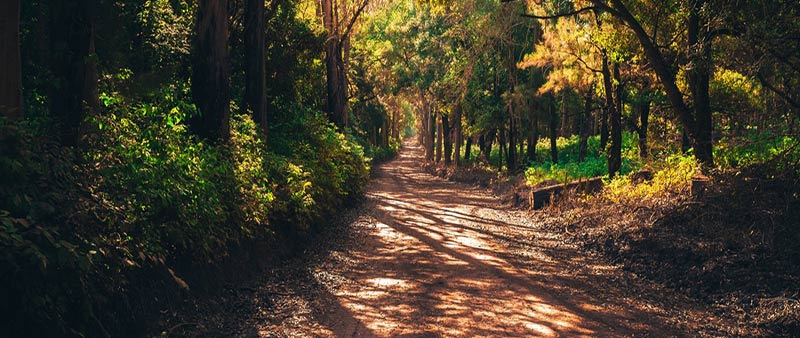 A captivating protected rainforest placed on the slopes of the majestic Bukit Timah Hill. A comparatively smaller land area as compared to the MacRitchie Nature Trail and the Southern bridges, it is never short of the endless variety of flora and fauna. For the adventure junkies, it is a playground to hone your hiking, biking, running, jogging, and rock climbing skills. Explore the beautiful elements of nature as you set for exploring each corner of this Nature Reserve. The Bukit Timah Nature Reserve houses the oldest mountain bike trail in Singapore. It features three different levels for beginners and advanced riders. You will never be short of exciting and adventurous activities to indulge in this Nature Reserve.
4.Mount Faber
One of the most popular tourist spot in Singapore due to the captivating views of the Singapore's central business district and endless click moments. It also features plenty of retail and food outlets where you can grab a quick bite and indulge in some shopping. The Mount Faber on record is the second highest hill in Singapore. It was initially named Telok Blangah Hill before being renamed in 1845 in honor of Captain Charles Edward Faber from Madras Engineers, who was instrumental in building a narrow road to the summit for installing a signal station. The cable car system in Singapore links Mount Faber to Sentosa Island and is a beautiful opportunity to explore both the island and the modern entertainment hub in the region. Since the installation of the cable car station, the area has transformed into a modern tourist hub with mind-blowing views and plenty of entertainment options.
5.Labrador Park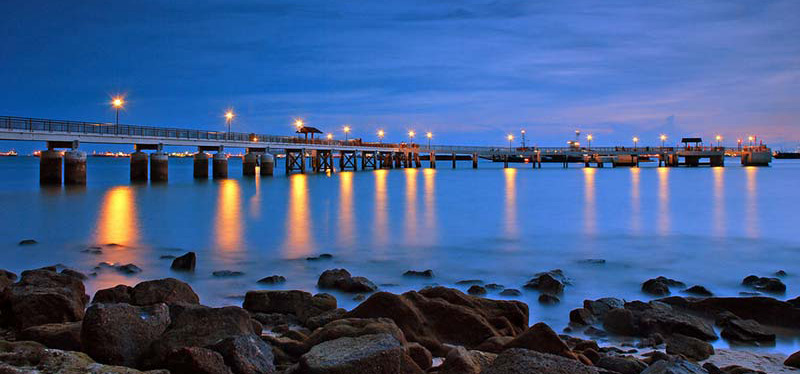 An absolute treat for nature lovers due to its stunning landscape and sea views. Placed on a rocky sea cliff in Singapore, it is blessed with an incredible variety of flora and fauna that adds to the irresistible factor of this park. The Labrador Park also houses more than 70 species of birds who come over migrating from different nearby regions. This Park played a significant role in the previous wars including World War II. The Labrador Fort was part of one of the eleven coastal artillery forts built by the British regime to defend Singapore's water borders from foreign invasion. Dig deep into the ruins and remnants of this ancient fort, and you would get more insight about how vital role it played during World War II.
Singapore's past and present is definitely worth exploring. Be it a weekend getaway or a leisure trip for some peace and tranquillity, the natural landmarks Singapore still carries the charm and elegance that one can associate with its rich past. Both the natural landmarks and iconic man-made attractions provide a glimpse of the prism of time. These natural landmarks Singapore have a story to tell and are worth exploring.