Singapore oozes with diversity from every core of life – be it food, dining experiences, population, education, trade, and much more. You would be amazed at the diversity of unique dining experiences in Singapore. The ambiance and the dining experience bring an entirely new feel to any meal. For a complete meal, you should be able to satisfy both your taste buds and other senses as well. And to your surprise, Singapore ticks all the boxes to fulfill both your gastronomical and sensory requirements. We have bought some of the unique experiences in Singapore that you should encounter during your Singapore holiday. The list below holds some of the names of unique restaurants in Singapore of significance.
Coolest and Unusual Restaurants in Singapore That Are on Our Bucket-List
1.White grass
Placed in the gorgeous and ancient Chijmes compound. It is blessed with brightly lit interiors, decors designed with natural colors, pastel color schemes, a pleasant atmosphere, and delightful Aussie cuisines from the famous Australian chef Sam Aisbett. A luxurious ambiance plays the perfect background for a lovely meal in this beautiful restaurant. A unique restaurant in Singapore that captivates its audience equally with both tasty delicacies and a captivating ambiance.
2.Ocean by Cat Cora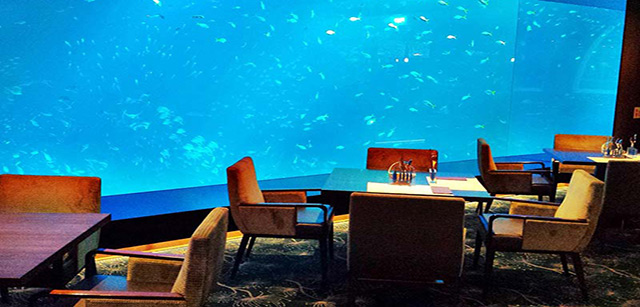 A unique dining concept designed by Cat Cora and Resorts World Sentosa offers you an exceptional dining experience in the depth of the sea. Placed in the S.E.A. Aquarium within ceiling to floor glass panels where you can enjoy tasty delicacies with your exotic marine life sea creatures in the neighborhood. A bit pricey, but it offers an experience like never before.
3.Lewin Terrace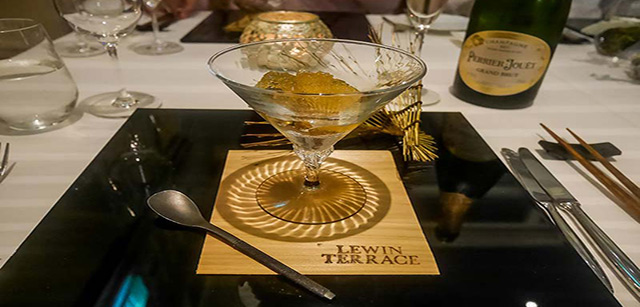 A colonial bungalow once upon a time is today transformed into an award-winning heritage restaurant that serves French & Japanese cuisines with a charming elegance like never before. Placed amidst a lush green tropical environment, this place offers a getaway from the bustling city life where you can laze around with time. One of the unique restaurants in Singapore that you should not miss out.
4.NOX Dine in the Dark
The restaurant makes the guests interactively use their four senses apart from sight to engage in a delicious twelve-course gourmet meal. The dark ambiance is an insightful and refreshing experience and one of its kinds. Served by visually challenged staff makes the guests often realize the importance of sight during a meal. One of a kind experience that you should never miss out during your Singapore holiday.
5.Sky Dining on Cloud 9
One of the exceptional and unique experiences in Singapore, Sky Dining on Cloud 9 leaves you suspended in a cable car all through your meal. Sounds freakish right? Well, once you taste the delightful dishes, you forget where you are. The guests have an option to book a private cabin decorated with flowers for celebrating a special occasion.
6.The Lighthouse Restaurant & Rooftop Bar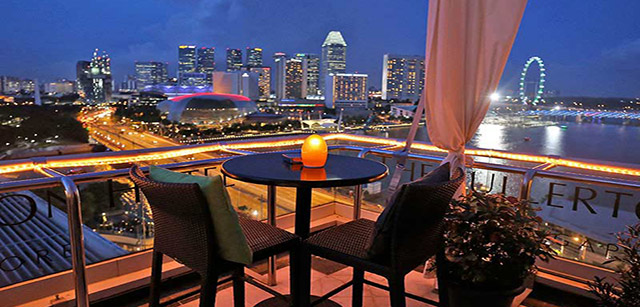 The Lighthouse Restaurant & Rooftop Bar at the Fullerton Hotel offers an elegant ancient setup coupled with contemporary offerings to create a unique restaurant experience for their guests. The guests can savor delightful Southern Italian cuisines while admiring the beautiful Marina Bay skyline to set their moods. No matter what the occasion is, the Lighthouse Restaurant & Rooftop Bar fits all tastes perfectly.
7.Corner House
A black and white bungalow in the Singapore Botanic Gardens was once upon a time the residence of the famous botanist E.J.H. Corner. Set your mood with captivating natural offerings. The bungalow today has been transformed into a modern restaurant, created by the master himself, Chef Jason Tan or Gastro-Botanica, as he is fondly referred to always. The luxurious, elegant & romantic ambiance coupled with delightful gastronomical treats make up for a truly unparalleled experience like never before. You would be surprised to know that the menu is relatively reasonably priced given the quality on offer.
8.Salt Grill & Sky Bar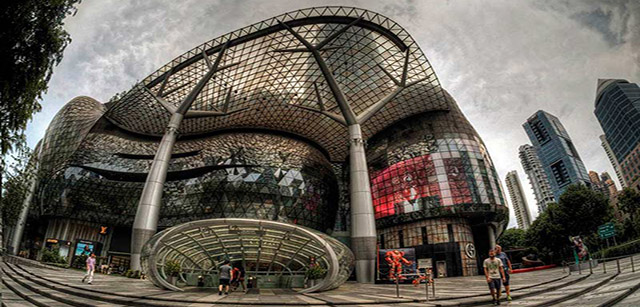 The sky is probably the limit when you refer to the Salt Grill & Sky Bar. Placed on the 56th floor of the ION Orchard, enjoy panoramic views of the breath-taking city skyline while savoring delightful treats. Celebrity chef Luke Mangan has personally taken an interest in designing the menu. It would be like enjoying a meal in the clouds. An unforgettable experience in one of the unique restaurants in Singapore.
9.Pollen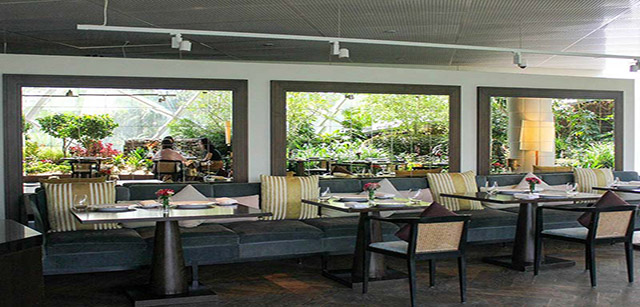 If you had enough of dark, water, and the sky. Head to the Pollen that offers a lush green ambiance decorated with plenty of flora and fauna. Placed in the Gardens By The Bay Flower Dome, guests can enjoy a delightful meal in the garden. Add the exquisite dishes designed by Chef Angelo Rosso; you have one of the most amazing and unique dining experiences in Singapore. A perfect ally to the vibrant green ambiance. Sets your moods almost instantly, you should not miss out on this dining experience at any cost.
10.Supertree by Indochine
Savor an excellent combo of Indochinese, Western, and fusion dishes like never before. The restaurant placed in the Gardens by the Bay, atop a gigantic futuristic tree, 50 meters above the ground level is one dining experience you will probably never forget in your life. The location has played a crucial role in taking the dining experience to the next futuristic level.
Singapore is a foodie's delight and offers several instances where the ambiance has outscored the alluring delicacies served around the city-state. The incredible variety and diversity on offer will make you spoilt for choices. Several quirky and unique concept diners make your dining experience even more special. It is impossible to list all the unique restaurants in Singapore in just one article.