For any journey to remain memorable, the story begins with choosing a dedicated hotel- A place away from home but still feels like one. Here is a compilation of the top hotels in Singapore that you wouldn't want to leave.
Millions of travellers flock to Singapore every year, to see its thriving cosmopolitan vista, which has an array of world-class, affordable attractions and loads of entertainment. Since the city-state is utterly famous among the foreigners, it is its duly responsibility to come up with lavish options for the tourists to stay in their long vacations. And to answer that, Singapore has gems and sapphire of hospitality.
With many new projects emerging in the last year and over 400 already established hotels, Singapore is going to give you an arduous task of booking the one that fits your need. From kooky boutique place to prosper beachfront villas, the array of hotels is astonishing.
We round up the best hotels in Singapore to suit any level of comfort and style.
1.The Fullerton Bay Hotel: A hotel in the centre of all activities
Perched in the front of the Singapore River, it is the best address to rest your head at. Let us tell you why- not just it has indescribable elegance but its strategic location in the coolest place of the city, Marina Bay lets you wander less and enjoy more. It is at a bare 5-minute drive distance from the famous Clarke Quay and Boat Quay. The hotel is splendid as it wonderfully mixes the modern amenities with Singapore's heritage. Equipped with spa, infinity pool, 24-hour fitness centre, an array of dining options, plus each room has got flat screen TV, wifi and panoramic views of the river, making it a relaxed space to live.
Also if you are coming by air, then this magnificent hotel is easily reachable in 25-minute drive while the station is no more than a 5-minute walk away.
Interesting fact: It has the best pillow menu ever, from buckwheat pillows to jade-lined.
2.Six Senses Duxton: Polished, extremely grand and stunning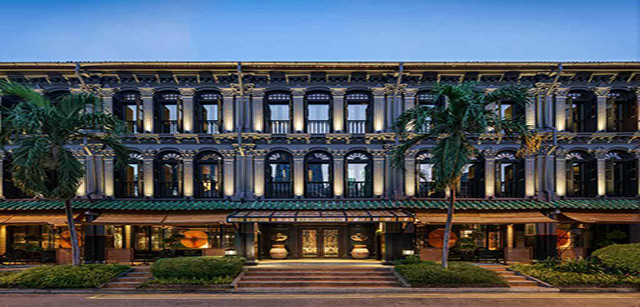 Telegraph: 8/10
It is gorgeously placed in the eclectic heart of Chinatown where business, socializing, dining and nightlife go hand in hand. It features bold Asian designs in gold, black and yellow as dominating colours. You will love the services here as they are warm and receptive. With 49 rooms under eight categories, and amenities as the bar, laundry, restaurant and wifi and available in-house, you can dream of obedient personal service present instantly. If not here, you have got handy access to a chain of restaurant and food shops. To shop like a boss, you can drive to 10-minute away Orchard shopping centre.
Interesting fact: You will discover Naturalmat organic mattress in this first urban resort.
3.Capella: A hotel close to nature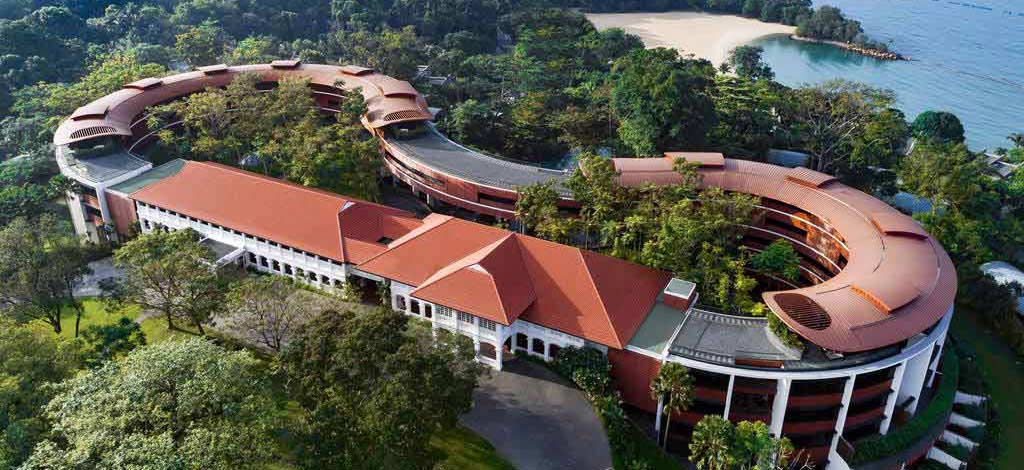 Telegraph: 8/10
The most expensive 5-star hotel in Singapore boasts an unrivalled blend of modernity with history. It is nestled around the old army buildings which are given a renovation of contemporary architecture. Renew and relax within the tranquillity of nature and wildlife. Lazing in your suites and villas, you can admire the views over the South China Sea. What makes these villas extraordinary are their own pools. The multi-tiered pool offers an infinity spectacle, a relaxing ambience and a walking puddle for exercise.
Interesting fact: You will feet out of this world when the peacocks roam around the tables during your breakfast.
4.Raffles: The iconic hotel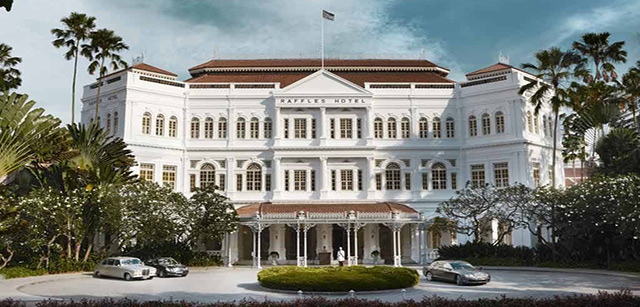 Telegraph: 9/10
Opened in 1887, Raffles is one of the premium hotels in Singapore and amongst the few remaining from the 19th century. Any travel freak you ask, the visit to Singapore is incomplete without staying at Raffles. Whether you are spending a romantic getaway or planning an official meet, there are plenty of reasons to be here. It is special because the design and service are inspired by local culture and tradition. The rooms evoke glamour and sophistication, over 5 restaurants and 6 bars include the delicious menu, 388-seat Victorian-style theatre hosts multiple events, plays and shows and 3 meeting rooms are opened to serve corporate needs. It is currently closed for renovation.
Interesting fact: At effortless travel of just minutes, discover the milestones as Orchard Road, Singapore Flyer, Merlion, Gardens by the Bay and more.
5.The St. Regis Singapore: One that explicates affluence
Telegraph: 8/10
When you see it, you know- it is the definition of timeless charm. It is the benchmark of luxury which boasts impressive firsts as the Remède Spa in Asia. It is both visually and sensually appealing with its graceful interiors. Apart from this gleaming landmark, the exquisite dining areas offer unsurpassed culinary excellence. There is an eminent arrangement of tables and chairs with deluxe character. There are over 300 rooms, equipped with comfortable king-sized beds, proper amenities, responsible service- all set against a picturesque view of the cosmopolitan city. It is also home to Asia's finest private art collections.
Interesting fact: It has been accommodation for the visiting royalty Prince Charles.
6.InterContinental Singapore: 5-Star luxury cultural hotel
Telegraph: 8/10
It is set in the heart of a historic precinct and is an award-winning hotel. Straddled between the ancient enclaves Arab Street, Kampong Glam and Little India, InterContinental Singapore combines personal services and exclusive privileges to make your trip unforgettable. The hotel is deeply rooted in the culture and heritage of Singapore. The rich Malay and Peranakan cultures influence much of the design here. If you adore shopping, it is absolutely hassle-free and conveniently located next to Bugis Junction shopping complex, Singapore's first glass-covered air-conditioned shopping street.
Interesting fact: The Peranakan-inspired refurbished rooms in the Main Tower are a huge draw.
7.Four Seasons: A hotel praised for its service
Forbes: 4/5
If you desire extraordinary service and loves to be attended well, Four Seasons is your ultimate hotel. Considering the detailed data of their guests, the hotel welcomes the guests the way you prefer. They can predict your needs and serve you outstandingly well. It yields a quiet, majestic and understated luxury for your living. The rooms are large and spacious to keep you rolling like a rockstar and with a few minute walking distance from the Orchard, it is also a shopping hub. It is packed with clubhouses, 2 indoor air-conditioned tennis courts, 2 outdoor tennis courts, a studio, lap pool, state-of-the-art gymnasium and spa.
Interesting fact: 1500 original pieces of Asian art are displayed throughout the 20 storeys of the hotel.
Sing up to one of these promising hotels in Singapore and spend your holiday in paradise.