Singapore, the lion city, is not a huge city, but it provides an ample number of places to see and experience for tourists. In just a couple of days, you can visit many places in order to experience this amazing city. Singapore offers a wide range of options from shopping to dining experiences. It truly is a marvelous place to vacation. Here's how you can have an eventful day(s)/ layover in Singapore.
Perfect Short Trip to Singapore
1. Ya Kun Kaya Toast
Start your day in Singapore here. Visit this place in the morning for breakfast, and try the Kaya Toast, which is one of the best Singaporean street foods to die for. It is a breakfast served with kaya (coconut jam) along with Singaporean-style tea and coffee. It will keep you energetic for the whole day.
2. Singapore Bus Tour
The subway system, buses, and taxis are clean and safe to hop onto in Singapore. The bus tour is a short tour where you get to learn useful information about Singapore. You get to see the beautiful sights and major Singapore attractions along with a tour commentary. The best way to take a bus ride is to head on to the upper deck, which helps tourists get a clearer view and take pictures. A useful tip – since it is always hot, carry sunscreen to help prevent sunburn. Also, if it does get too hot then you can climb down to the lower deck for air conditioning as well as shade.
---
[ Also Read: Guide for First-Time Visitors]

---
3. Boat Quay
To get a glimpse of Singapore's lifestyle nearby the sea, it is advised to take a small boat on Singapore's river. The boat takes you through different quays like Clarke Quay, Boat Quay, and Marina Bay. All the quays are lined up with different shops and restaurants and are ideal places to have a small walk.
4. Singapore Flyer
One of the thrilling things to do in Singapore is to go rounds on Singapore Flyer. It is a Ferris wheel, 165 meters high above the ground. It is approximately a 30-35 minute journey in a well-maintained, air-conditioned cabin, and each cabin takes about 28 people. Daytime or nighttime, once you reach the top you will be able to see how beautiful Singapore really is and appreciate its unique skyline. A ride in the Singapore Flyer is an ideal activity to have an exciting time.
5. Gardens by the Bay
Gardens by the Bay are massive parks that offer waterfront view gardens. Located next to the Marina Reservoir, this popular Singapore attraction is made up of 3 main areas called Bay South Garden, Bay East Garden, and Bay Central Garden. Bay South Garden is the largest garden whose design is like a shape of an orchid, which resembles the National flower of Singapore. Here is a Supertree Grove made up of 3 huge manmade trees, close to 16 stories tall. You can get a glimpse of the beautiful gardens once you go around these massive trees. Then head over to the Bay East Garden for a small but perfect evening picnic with your family, or just calm yourselves down around the palm trees. If you feel hungry, there are cafes and restaurants with delicious food across the gardens. Overall, it is a nice place to be in the evening to finish your one-day tour in Singapore.
6. Singapore Chinatown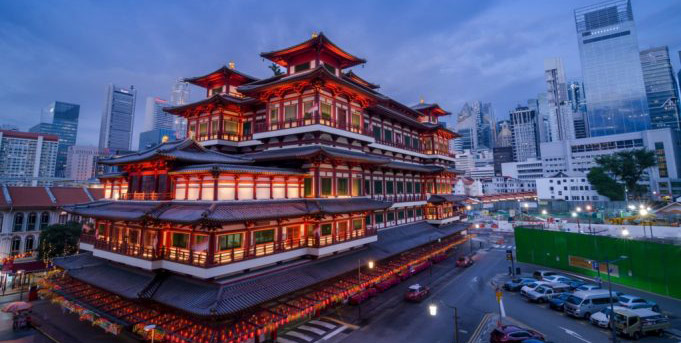 Chinatown in Singapore is home to Chinese and Buddhist temples. You would love to tour here and eat Chinese food. Try the char 'kway teow' (stir fry noodles), and 'satay' (barbecued meat) on the street stall. You can also do a bit of shopping in Singapore like collecting souvenirs in Pagoda Street or even try traditional Chinese medicines on South Bridge Road. It's a fun place to be.
---
[ Find Out: Places to Go On Budget in Singapore]
---
7. Little India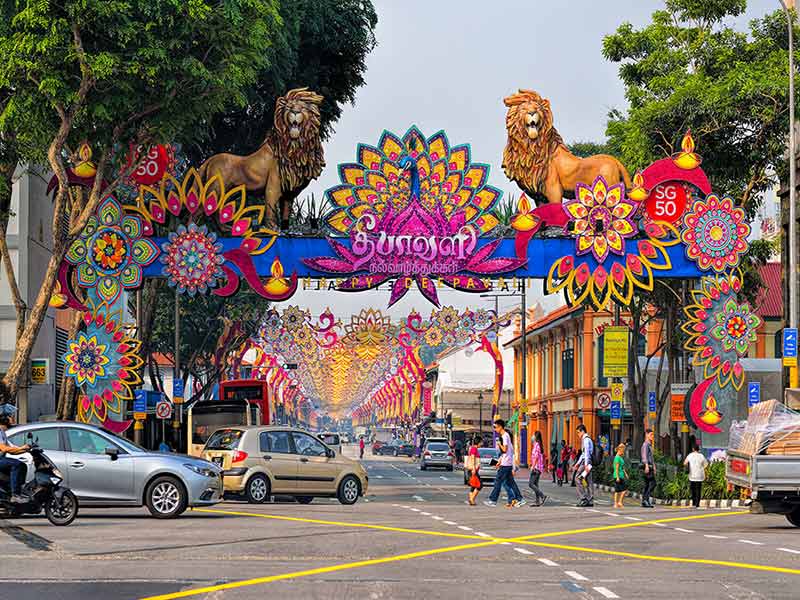 Catch a taxi and head out to Mustafa Centre in Little India, the most delightful place to visit in Singapore. This place is famous for bargain shopping for clothes, groceries, and electronics. There are quite a few authentic Indian restaurants here that serve vegetarian and non-vegetarian dishes. However, most restaurants here will serve vegetarian food. So, come to Little India for food and shopping opportunities.
8. Maxwell Food Centre
If there is one thing Singaporeans love, it is their food. Also known as Hawker Centre, Maxwell Food Centre is an ideal place for all food lovers. You will find a massive range of delicious foods at cheap prices. One dish that is highly recommended is Tian Tian Chicken Rice. Post that, end your meal with Ice Kachang, which is ice shavings topped with condiments like salt, mustard, or pickle. It's weirdly delicious.
Conclusion
So, there you have it. If you plan to visit Singapore and want to pack in a lot in just one or two days, these are the places to visit. All the best and enjoy Singapore to the fullest.