Singapore is a culinary paradise. The world is waking up to the amazing cuisine this melting pot of cultures has to offer. Switch on any cookery reality show; you'll see someone rustling up a Singaporean delight. Its fame has reached far and wide, and chefs are opening up restaurants around the world that exclusively serve Singaporean cuisine. This trend is here to stay.
What makes is special? One word – Fusion. Singapore is nation built by the hard work and sweat of immigrants from around Asia. These immigrants also brought with them, their countries cuisine. Over the years, people fused this cuisine to come up with something that is uniquely Singapore. From savoury to sweet, from tangy to salty, this cuisine imbibes a melange of ingredients that come together to create a culinary experience that is to-die-for. Though there are many delicacies, there are a few street food dishes one has to try. After all, streets are where the most delicious can be found.
1.Kaya Toast and Soft Boiled Eggs
Start your day with this healthy and delicious breakfast, and you'll feel light throughout the day. It is simple. Bread is toasted and then slathered with kaya and butter. It is served with boiled eggs and coffee. This is every Singaporeans favourite breakfast. Try it and it will be yours too.
2.Laksa
This fish dish is famous all over Asia with the Singaporean and Malaysian version being the most popular. The Singaporean version is curry laksa. It has a broth made of coconut milk, which has fish pieces, shrimp and cockles. It also has bean curd puffs, and vermicelli. This dish will warm your heart.
3.Fish Head Curry
While most cuisines ignore the head portion, Singaporeans know the fact that most of the flavour lies in the head. This dish was first made by the Indian immigrants but there's a Chinese version also available. The Red Snapper Head is cooked in curry, spices, and vegetables like eggplant (brinjal) and okra (ladyfingers). The Chinese version is light on spice.
4.Oyster Omelettes
Yes, it is as tasty as it sounds. This extremely popular dish is one of the most sought after street foods. All night long, you'll see hawkers mix potato starch with eggs and oysters. Some also use chilli vinegar for added spice. It's so easy you'll be making it at home.
5.Chicken Rice
More often than not, it's the simpler dishes that deliver complex tastes. Brought here by the Chinese, chicken rice consists of a whole chicken braised in pork and chicken broth, served with rice cooked in chicken broth. It's served with chilli sauce or soy sauce.
6.BBQ Sambal Stingray
Stingray is not a very popular dish anywhere in the world, but Singaporeans figured out a way to make it tasty. The fish is first barbecued to a nice char in banana leaves with spices. It is then topped with a spicy sambal. The result? Pure flavour that'll make you reach for seconds. This unique dish is quite a favourite throughout the region.
7.Fried Carrot Cake
This is a dish like no other. Though, it may sound it is made of carrot, but it is not. It even has different variants. But the common thing is that it is delicious. It is made from white radish flour cake, preserved radish, and eggs. There's a sweet version as well which incorporates molasses. This is a street favourite, and you can catch tourists and Singaporeans alike munching on it in the evenings.
8.Chilli Crabs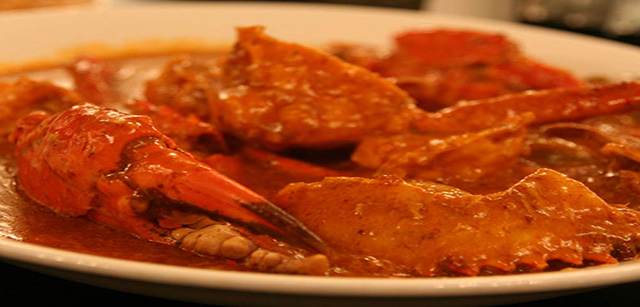 Singapore being island nation incorporates a lot of seafood in its cuisine. Crab is a popular dish in the country, and the locals like it spicy. There are 2 ways. One is where the crab is fried with lots of black pepper. The second one is where the crab is cooked in chilli tomato sauce. It is sweet and spicy. Both of the dishes are equally popular, and you must try both the versions.
9.Hokkien Prawn Mee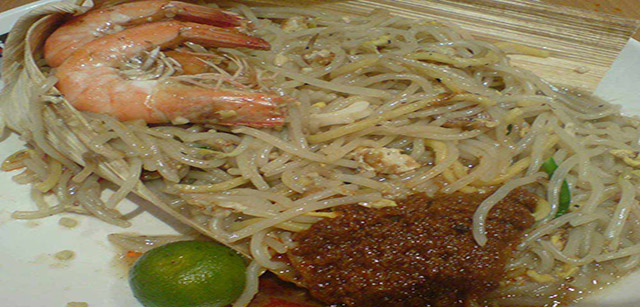 Packed with protein and loads of flavour, this dish combines the best that the streets have to offer. Rice noodles and egg noodles are combined and cooked in a hearty prawn stock. Now comes the flavour in the form of fried pork fast, fish cake, squid, whole prawns, and pork strips. With so much flavour in it, how can one go wrong? Streets are the place where you should devour this dish.
10.Satay
Though, not originally Singaporean, the Satay is now an integral part of the cuisine here. The dish can be made of any meat, but needs to be marinated with turmeric powder. It is cooked over the grill and served with a sweet and spicy peanut sauce, onions, and cucumber. They are little bites of heaven.
Singapore is a street food paradise. Though, there are many high profile restaurants, locals and tourists alike, prefer eating on the streets. In fact, there are tour operators that arrange for tours that take you to the best street food joints. So, if you are planning a Singapore, you must savour its street food.