Singapore is a potpourri of Asian ethnicities that are now an integral part of the country. One such ethnic group is the Indians. Based in Little India, Singapore, the Indian community is one of the largest communities in Singapore, and have a special identity in this great nation. Little India is lovingly referred to as 'Tekka', and is a popular attraction that sees thousands of tourists enjoy the vibrant locales. It is located on the east side of the Singapore River, just across another wonderful ethnic area, Chinatown. So, if you are touring Singapore, be sure to catch these attractions in Little India.
1.Serangoon Road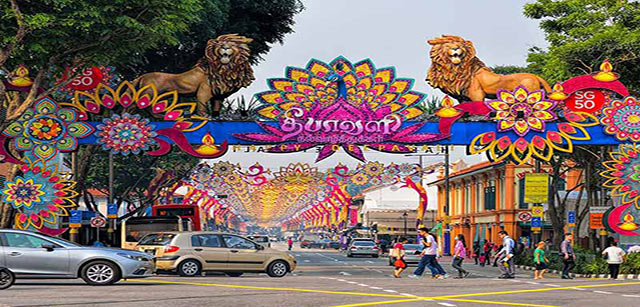 This road is the lifeline of Little India. Decked in colourful lighting in the evening, the Serangoon Road will make you feel like it is festival time. The road is full of temples, mosques, churches, and Buddhist temples that are important landmarks. The road also has some famous places for bargain shopping.
From clothes, to unique artefacts, you can find it all on Serangoon Road. However, one of the most important features of this road are the delicious street food stalls. The world loves Indian food, so, here's the place where you can gorge on spicy vegetarian curries, hot chicken tandooris, and sip of strong filter coffee. Serangoon Road is a must-see place in Little India.
2.Mustafa Centre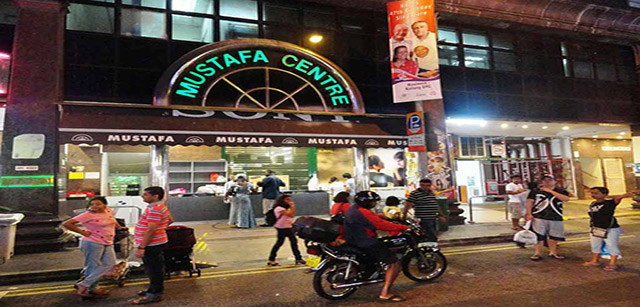 Located just off Serangoon Road, the Mustafa Centre is the best mall for budget shopping. This centre is open 24/7 and shoppers from all over Singapore come here to buy everything from clothes, to electronics at reasonable rates. Tourists also love shopping here. The story of this store is unique. They started of by selling ready-made clothes. This business took off, and they acquired the floor below and started selling electronic items as well. Soon, they bought of all the neighbouring business, and the Mustafa Centre shopping mall was born. It is a wonderful place for all. So, make sure you explore the wonderful retail opportunities at Mustafa Centre.
3.Sri Srinivasa Perumal Temple
Your trip to the Singapore would be incomplete if you don't see one of the best attractions in Little India. The Sri Srinivasa Perumal Temple is dedicated Lord Krishna, and is built in the typical southern style of old temple architecture. Built in 1855, this is one of the oldest temples in the region. It was once home to a vibrant, stream, but that has dried up. In it's place is a well that marks the flow of the stream. Every Hindu festival, the temple is decked in colourful garlands and decorations, with prayers being offered throughout the day. During the Thaipusam Festival, a procession leaves from this temple to Chettiar Hindu Temple. The procession is quite a sight. Sri Srinivasa Perumal Temple is a great place to experience Indian culture.
4.Masjid Abdul Gafoor Mosque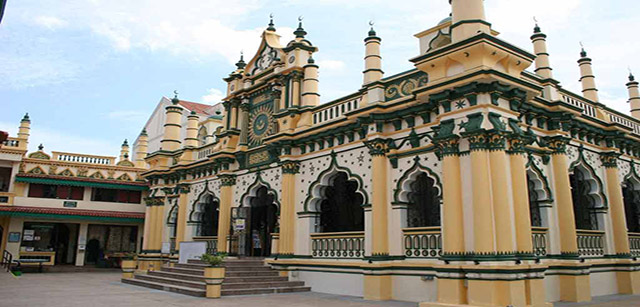 Over a 100 years old, Abdul Gafoor mosque is another important religious and historical site in Little India, Singapore. This mosque is rich in amazing architectural features, and is considered to be one of the most beautiful mosques in the country. The raised prayer hall is surrounded by verandahs. The whole mosque is adorned with gorgeous calligraphic inscription, and the administration in the mosque is polite, and friendly. They also patiently answer any questions about Islam, and about the mosque. During the holy month of Ramadan, devotees come to offer prayers 5 times a day. The whole atmosphere is beautiful. Watching prayers or ceremonies is progress is one the best ways to catch the actual beauty of the mosque.
5.Sunday Street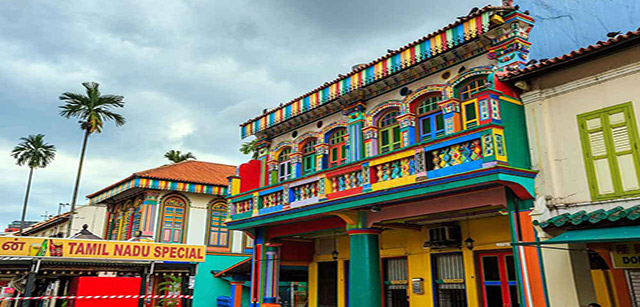 If possible, visit Little India on a Sunday. On Sundays, the Sunday Street is in full swing. From shopping to food, this is place is buzzing to the hilt. Sunday Street is the place to shop, eat and enjoy. Sunday markets are commonplace all over the world, but what makes Sunday Street unique is the people. People from all over Singapore are here to enjoy the atmosphere, and indulge in retail therapy. Indians, Chinese malay, Europeans, and native Singaporeans all get together and have a great time at the Sunday Street. In fact, nany tour organisers also make it a point to take tourists here on a Sunday, so, they can shop, eat, and enjoy
---
---
Little India, Singapore is a well of culture and entertainment. There are so many attractions in Little India, that it will become one of your favourite places to visit in Singapore. Singapore is a marvelous country with so much to offer to the world. From amazing attractions like Sentosa Island and Night Safari, to traditional places like Chinatown, and Little India, it offers tourists a rich menu of experiences that make for a wonderful vacation. Don't wait up. Book your Singapore tour today, and get ready to explore for one of the most beautiful places on Earth.