Singapore is all about enriched experiences. The country is multi-ethnic, offers vibrant as well as soothing vibes. The island country  provides the delight of world class entertainment and thrilling attractions, and is home to a myriad of flavor and aromas both local and from all around the globe.  If you are a foodie, Singapore is bliss for you. Singapore's F&B scene is outrageously diverse. Right from local street food to Michelin starred elegant fine dining restaurants, every culinary experience you witness in Singapore is going to leave a tantalizing memory on your taste buds. If you are looking for an experience that goes beyond just good food, Singapore offers plenty of 'out of the box' dining experiences. The following 7 epicurean pleasures go beyond ordinary etching the experience of unusual, extraordinary Singapore meals in your memory for a long long time.
1.Faber Peak Singapore

An ultimate dining experience awaits at the Faber Peak Singapore. Faber Peak in Singapore is one of the most picturesque spots that offer stunning birds-eye views of the city and its surroundings. Though you can drive up the hill, you can also opt for an exciting option of gliding all the way up to the peak in a cable car. Also, you can experience a delicious meal in the cable car while you enjoy the stunning views of Singapore and beyond. 'Dining on Cloud 9' experience lets you have a private cable car ride to the peak and enjoy a 4-course meal with amazing views of the city. At Faber Peak, you can chill around with a cocktail and savour some European treats at Dusk Restaurant & Bar or enjoy a scrumptious meal at Spuds & Apron while enjoying stunning sunsets over the forest canopy and the distant city skyline.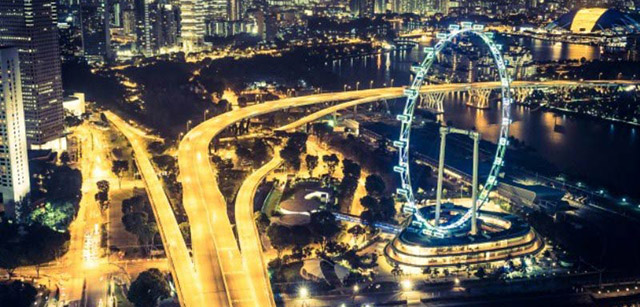 2.Singapore Flyer – Sky Dining

A great way to view Singapore's dazzling vigour and beauty is on the Singapore Flyer – one of the most popular tourist attractions of Singapore. But there is more to the experience than just fantastic panoramic views of Singapore city.  While planning for Singapore Flyer experience, opt for the Premium Sky Dining Flight which upgrades your sightseeing tour to an elegant fine dining venue. While you can enjoy lovely sights of Singapore, you can also indulge in a one hour 4-course menu consisting of Western or Chinese Menu and champagne. Sky Dining at Singapore Flyer is an ideal way to make most of your Singapore Flyer tour.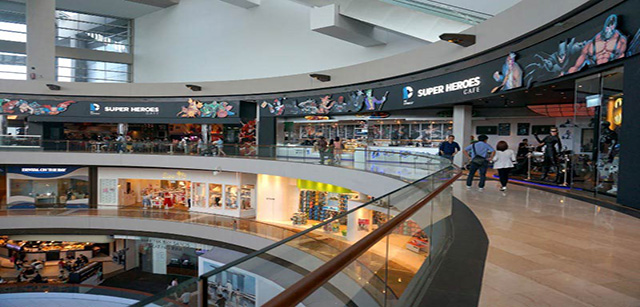 3.DC Comics Super Heroes Cafe
For the comic geeks and superhero fans, Singapore has a surprise for you. The DC Comics Super Heroes Café at The Shoppes at Marina Bay Sands in Singapore is decked up in the theme of DC comics superheroes and offers merchandises and delightful dishes all based on your favourite DC comic character. You can order a Batman Dark Knight Burger, Justice League Pizzas or Wonder Women lava cake. Right from the walls, tables to the desserts, everything here has a fascinating touch of DC superheroes.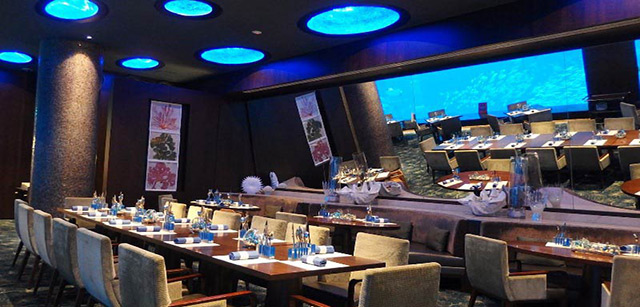 4.Ocean Restaurant by Cat Cora

Immerse in a sea of flavours while being surrounded by the wonders of the sea. Ocean Restaurant by Cat Cora offers a stellar palette of Mediterranean and American Cuisine within an oceanic ambiance. You can relish the menu of 4-course dinner that consists of fresh, succulent mix of seafood and meat, along with delicious desserts and appetizers. The restaurant's floor to ceiling glass walls offers you an admirable view of the SEA Aquarium's Open Exhibit as the restaurant is located adjacent to it. You can watch leopard sharks, manta rays and other colourful fishes glide past you while you are enjoying your delectable dining experience.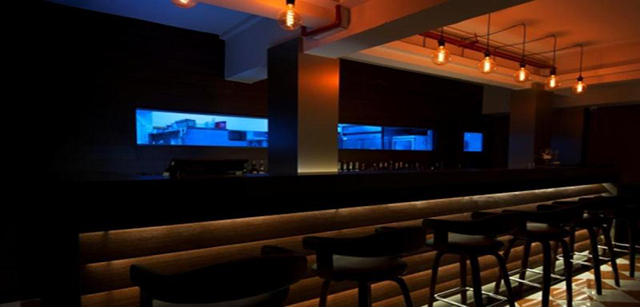 5.Nox – Dine in the Dark

Eating a meal should be a multi-sensory journey – an utterly satisfying meal that makes you feel gratified. At NOX – Dine in the Dark, you get all of these sensations, except for the part where you can see what you are eating. Here's what you can expect here – Tuck into a 3-course dinner in an absolutely dark room where you are intrigued and find yourself curious to know what you are tasting by relying only on your sense of smell and taste.This makes you discover intricate details of flavours, aromas, and textures, and have a mindful dining experience. The experience takes away your focus on the visual presentation of the dish and lets you thoroughly enjoy each and every bite you savour. The menu is a suspense and revealed to you only after you have finished your meals.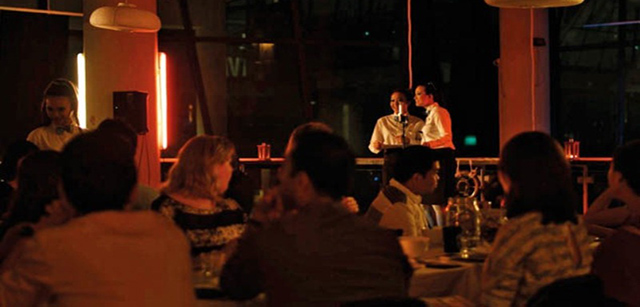 6.'And so forth' Pop-up restaurant

The concept of 'and so forth' is absolutely brilliant. This pop-up restaurant appeals to its customers with exciting ambiguity. The menu, theme and the venue are a secret till you have booked a reservation with this restaurant. Once the pre-booking is done, you will be given information and clues on how to get to the venue. This secret dinner is a dramatic interactive dinner which offers an exciting combination of stage plays and fine dining. The dining experience is a 4-course meal that you will come to know only when the meal is set in front of you. In all it is an extraordinary way of having fun, mingling with people, and enjoy a meal amid storytelling – the best way to expect the unexpected.
7.The Screening Room

Looking for a place to hang out? Head to the Screening Room where you can lounge around with a chilled drink and even watch a movie. Located at Ann Siang Road, just 10 minutes away from MRT in Chinatown, The Screening Room is set inside a rustic heritage structure and has a boutique restaurant, conference bar, and a rooftop bar all under one roof. Its boutique film theatre cum dining venue offers a fantastic dining experience where you can cozy up on a sofa and delve into a delicious meal while watching a classic movie on a large screen in front of you. Check out the movie calendar before you reserve your booking so that you can enjoy your dining experience with a movie of your choice on the screen. The menu is strategically planned to match the concept of the movie. The Screening room is the best way to enjoy a dinner and a show in Singapore.
Apart from these featured selections, Singapore has many more extraordinary ways to make your meals a memorable fine dining experience. You can dine on top of the highest Super Tree at Gardens by the Bay at Supertree by Indochine, enjoy a leisurely dinner on donut-shaped boat restaurants known as floating donuts, and even have a dinner with pets at pet cafes such as We the Furballs and Neko No Niwa. In fact, Singapore offers a unique experience in each of its elements – be it attractions, entertainment or dining. It is no doubt that while you are in Singapore, you will fall in love with everything this charming country has to offer you.