Singapore is a medley of wondrous manmade and natural attractions that takes you on a journey through beautiful experiences. Nevertheless, the country boasts its high dynamism and innovation through its advanced urbanism and introduction of artificially created stellar natural attractions that are identical to natural experiences. Singapore offers amazing attractions created specifically to give experiences unparallel to any other in the world – be it the world's first-night safari zoo, an underwater journey into the realms of aquatic life, or an awe-inspiring walk through enchanted gardens filled with majestic trees and endless sights of plants and flowers known as the Gardens by the Bay. This mesmerizing stretch of gardens dominated by giant SuperTrees at the waterfront with Singapore's amazing skyline as a backdrop is a pioneering landmark and a deserving feat added to Singapore's breakthrough attractions. The Gardens by the Bay is sure to knock your breath away with its sheer splendor, here's some interesting trivia about Singapore's latest icon.
Why Visit Gardens By The Bay? 
A. It is a UNESCO Heritage site
This one-of-a-kind city garden was conceived with a vision to create 'a city in a garden' and encourage the development of lush green spaces in the country to turn Singapore into a tropical garden nation with a perfect environment for a healthy work and life balance. The idea formulated the concept of having a sprawling garden amid the bustling city which will provide a cool recreational and educational experience along the mesmerizing waterfront and city views. Spanning over 101 hectares of reclaimed land in the south of Singapore, this horticulture heaven is split into three garden areas -– Bay South, Bay East, and Bay Central, each having plants and trees of different varieties from around the world. Built to make the city lusher and nature-oriented, Gardens by the Bay is Singapore's latest addition to its UNESCO Heritage site.
B. It flaunts Out of the Ordinary Design
A magnanimous project that would propel Singapore's tourism influx stupendously first and foremost needed a great design and meticulous planning. To achieve a unique top-notch layout and design of this magnificent garden, an international design competition was organized where 170 firms from over 24 countries participated with their ideas. The final designs were chosen by an 11-member jury and two winners were announced- Grant Associates whose designs were chosen for Bay South, and Gustafson Porter who designed the Bay East Garden. Bay Central Garden was decided to be made later. The concept, plans, and models were exhibited to the locals at the Singapore Botanic Gardens which received overwhelmingly positive reviews from the public. The feedback further pushed the plans to take action and the vision of a larger-than-life garden commenced to transform into reality.
The Bay South Garden is the biggest garden of the three gardens and represents the best of tropical horticulture, gardening creativity, and innovative architecture. The design of the garden is inspired by Singapore's national flower- Vanda 'Miss Joaquim' orchid. The landscape is where all major attractions are located – two main conservatories, themed gardens, and the SuperTree Grove presenting a rich assortment of foliage for its visitors to experience diverse botanical sights from around the world.
C. It has three Paradise-like Lush Zones
1.SuperTree Grove
A surreal sight of towering trees welcomes you as you enter the Gardens by the Bay. Known as the SuperTree Grove, this unique garden has around 18 massive tree-like structures created to form one of a kind vertical garden covered in plants and colorful displays of flowers. Each of the trees is a separate garden comprising of more than 200 species and varieties of flowers, plants, and climbers. A walk on the suspended aerial walkway known as the OCBC Skyway between two of the SuperTrees gives breathtaking panoramas of the garden. The canopied trees act as a shade to visitors during the day and in the evening, the illuminated trees put up a splendid Garden Rhapsody show of synchronized lights and music.
2. Cloud Forest
An outlandish and impossible feat made into reality is the Cloud Forest – a concept of having a forest amid mists is depicted brilliantly in this enclosed arena which has a 35 meters tall mountain surrounded with a misty ambiance, covered in lush vegetation and dominated by the world's tallest indoor waterfalls. The atmosphere replicates the cool mountainous cloudy climate and exhibits foliage and rare plants of the tropical highlands up to 2000 meters above sea level in 7 discovery zones.
3. Flower Dome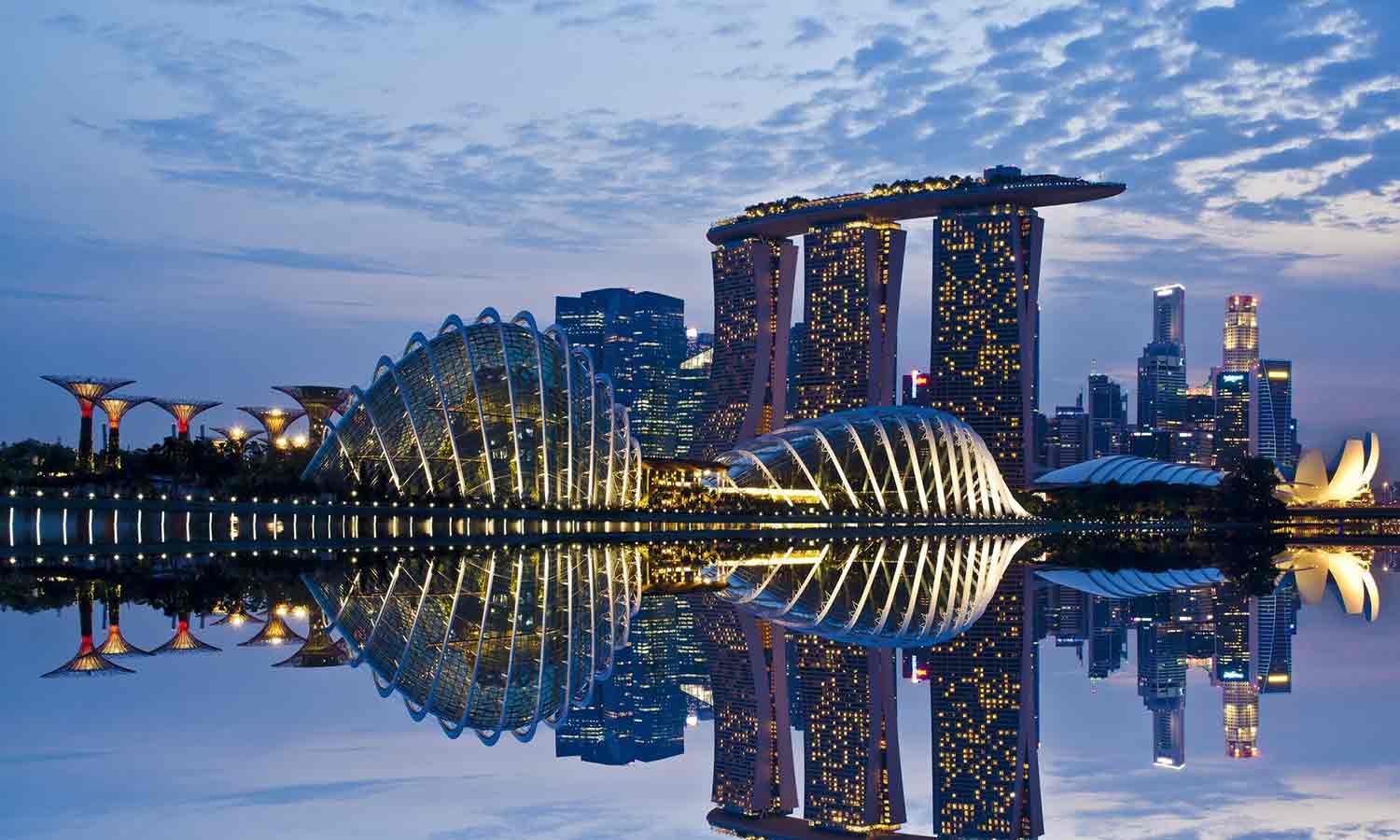 A world of colorful blooms- The Flower Dome is a zealous display of flowers and rare plants in a cool – dry Mediterranean climate. A place where flowers blossom every day, the Flower Dome presents exhilarating colorful displays of flowers that keep changing as per different seasons, themes, and festivals. Situated inside are 9 exquisite gardens based on 5 continents where you can find trees and plants that grow only in those regions.
D. It is an Initiative towards Conserving Nature
The main idea behind constructing such a garden on an epic scale is to showcase Singapore as a nation that respects the ecosystem and biodiversity. The need to change the perspective of Singapore from a new age urbanized nation to a green eco-friendly country and keeping in mind the problem of climate change on the rise, Singapore's perseverance regarding eco-balance is flaunted in Gardens by the Bay. It imbues energy and water sustainability in its attractions by implementing cutting-edge technology.
The cooled conservatories of Flower Dome and Cloud Forest run on techniques that provide energy-efficient cooling solutions, the Super Trees are installed with photovoltaic cells on their canopies that absorb solar energy which is later used for illuminating the trees at night, and the Dragonfly and Kingfisher lakes is a scenic treat for aquatic lovers but it has a dual role as an eco-filter to cleanse water pumped in from the Marina reservoir and to maintain better water quality.
There are edutainment programs to both educate and entertain visitors regarding the awareness of plants and horticulture.
Things to Do in Gardens by the Bay
Stroll around the different zones and treat your senses to this architectural marvel.
Marvel at the 35-meter tall indoor waterfall for a refreshing trip.
Wander amongst the supersized man-made trees.
Splash fun in Children's Garden with your little ones. This green expanse features trampolines, hanging bridges, balancing beams, and numerous kid-friendly items, which are suitable for 1-12 yrs old.
Get lost in the dreamy floral artistry in the cool Mediterranean climate.
Hike the 22-meter-tall OCBC Skyway that connects all the lofty Supertree Groves and offers you an aerial view from the vantage points. This 128-meter-long aerial walk will keep your jaws dropping with the breathtaking sight of the garden.
Watch the grand spectacle at night shows. The garden bursts into light and magic for the Garden Rhapsody show. There are two displays at 7.45 pm and 8.45 pm respectively and are held for 15 minutes.
Interesting Facts About Gardens by the Bay
This was a massive project that cost a whopping $1.035 billion.
The garden is decorated and dotted with 1 million plants from thousands of species and nearly 200 rare species.
The overall design of the garden resembles Singapore's National Flower, the Orchid, popularly known as the Vanda Miss Joaquim.
Contrary to Singapore has hot and humid climate, the temperature in Gardens by the Bay is cooler and constant, ranging between 23-25 degree Celsius.
The Flower Dome is a Guinness World Record holder for the largest greenhouse in the world, spread over 3 acres.
The garden has a real mountain present inside embellished with flowers, plants, and cascades.
The giant Supertrees are neck-craning high. Their heights range from 25 (82 ft) and 50 meters (160 ft).
Where is Gardens by the Bay located? 
Address: 18 Marina Gardens Dr, Singapore 018953
Plan a trip to Gardens by the Bay
Singapore's very own mini verdant forest is a hi-tech marvel and catapults the nation as a nature-conserving and eco-friendly country. With these Gardens by the Bay facts, you can make out that this garden of wonders is not just a natural delight and respite for its guests to get away from the buzzing city rushes; it is a way to give something back to nature and help preserve it. Though Singapore marvels everyone with a plethora of attractions which makes it slightly confusing what to include on your tour, Gardens by the Bay is an obvious must-visit landmark you should visit on your Singapore trip.