Singapore is Asia's most popular tourist destination. Despite being a small island nation, millions of tourists come here to make memories worth a lifetime. There are so many attractions here that tourists are spoilt for choice. However, it is highly recommended that you try attractions and experiences that you can only find in Singapore. One such experience is the safari. Singapore has a few safaris that are quite unique. If you love wildlife and nature, you must try them when you are in Singapore.
1.Night Safari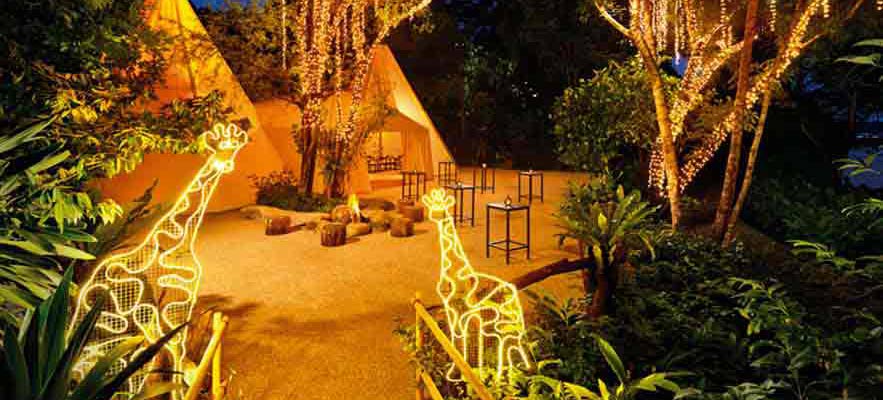 This is the world's first night safari. Most animals are nocturnal, so, it makes sense to view them during the night time, when they are at their most active. This zoo is spread across 86 acres, and houses more than 2500 animals belonging to 130 species. 1/3rd of these animals belong to the endangered category. So, this zoo is also a great way to conserve these animals, and spread awareness about them.
The whole safari is divided into different geographical zones, and animals from the particular region are housed in these zones. You are taken through the park in trams, and the whole zoo is lit in dim lights, so, the animals are not disturbed. There are also many walking tours that make the whole experience scary, and exciting. The night safari is one of the most popular attractions in Singapore, and tourists book their tickets well in advance.
2.River Safari
Find the aquatic and wildlife of different rivers habitats all over the world in one place. The river safari is one of the prime attractions in Singapore. It is the only river safari is all of Asia, and covers a massive 30 acres. The river safari sees close to a million visitors each year, and it took more $160 million to make it a reality. In this safari, you get to witness wildlife in its natural habitat while your cruise about on the river in sturdy boats and rafts. There are 10 different types of ecosystems whose habitats are created to resemble the original river. This way, the wildlife placed in a particular area can survive and thrive. The park also has a few theme parks rides. It is a wonderful place for families, and a must-visit for all nature-loving tourists.
3.Jurong Bird Park
This one is for the bird lovers. Located on the Jurong Hill, this 49 acre park is home to some of the most exotic birds from around the world. This park was built as a conservation park with an aim to educate people about various birdlife from around the world. There are 7 different aviaries that are designed like different ecosystems to hold birds of that particular area. Jurong is a free-flying aviary, which means most of the birds are not caged, and can fly about freely. One of the best features here is the penguin coast. Kids love seeing the cute emperor penguins waddle about in their habitat. There are also many shows at Jurong Bird Park, like 'High Flyers Show' which has the largest number of performing birds in one single act. Touring the Jurong Bird Park is guaranteed to be an unforgettable experience.
These are the three main safaris and tours you can experience in Singapore. They are uniquely Singaporean. Every true traveller that wants to experience Singapore must partake in these safaris.