Singapore – A destination that often gets its guests awestruck by its immensely clean spaces, multicultural essence and magnificent balance between modern living and nature conservation. This island -state country may seem like a  tiny speck on the world map but it is packed with an amazing assortment of attractions which makes it one of the most highly sought-after Asian destinations for tourists. As a family holiday destination, Singapore has plenty of ways to keep everyone irrespective of age engaged in excitement. Singapore welcomes you to a plethora of amusement and recreational parks for its visitors to spend quality time in fun and laughter. Check out these top 10 theme parks one should visit on a Singapore family trip.
1.Universal Studios Singapore
Inarguably, the best and most popular theme park in Singapore is the Universal Studios Singapore. Located at Sentosa, this internationally renowned theme park is the only Universal Studio Park in South East Asia. Featuring seven movie-themed sections, Universal Studios Singapore welcomes you into a world of cinema and offers mild to adrenaline rushing rides and shows that can be enjoyed by everyone. The hair raising thrill rides such as Battlestar Galactica and  TRANSFORMERS 3D Battle takes your heartbeat to another level. While grownups and teens can have their fair share of thrill and excitement, the little guests can enjoy their time at Sesame Street rides and other live shows.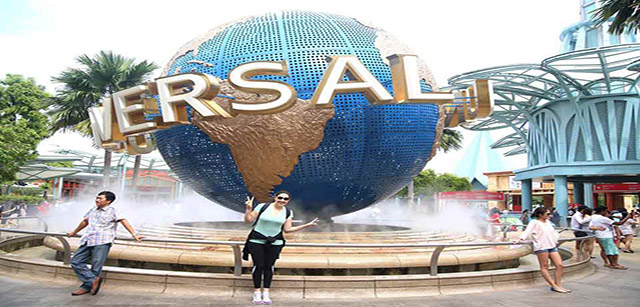 2.Night Safari Singapore
Singapore proudly presents the first ever nocturnal zoo in the world – Night Safari Singapore. It is the perfect idea for a family outing during the night where you can enjoy wonderful folklore performances, watch various animals freely roaming in their natural habitat, have a lavish meal, take a tram safari through the dimly lit jungles and even spend a night at the camp. While the attraction is incredibly exciting, it is also a great way for visitors to get to know more about the natural nocturnal behaviors these exotic animals.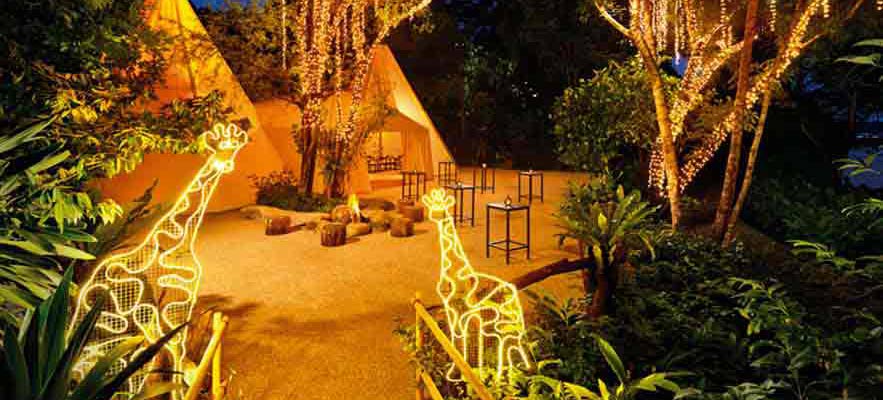 3.River Safari
This river-themed park and aquarium located right next to the Singapore Zoo and the Night Safari, Singapore lets visitors witness over 6,000 animals which include rare and endangered species as well. Sail through the tropical wilderness on the Amazon River Quest boat ride where you can catch .glimpses of amazing wildlife such as jaguars, squirrel monkeys, giant otters to name a few.  Don't miss to visit the Giant Panda Forest to view red pandas and white pandas.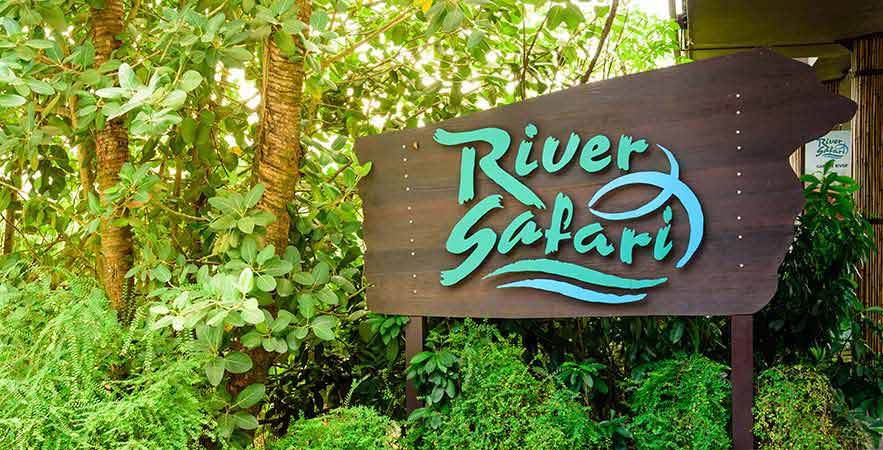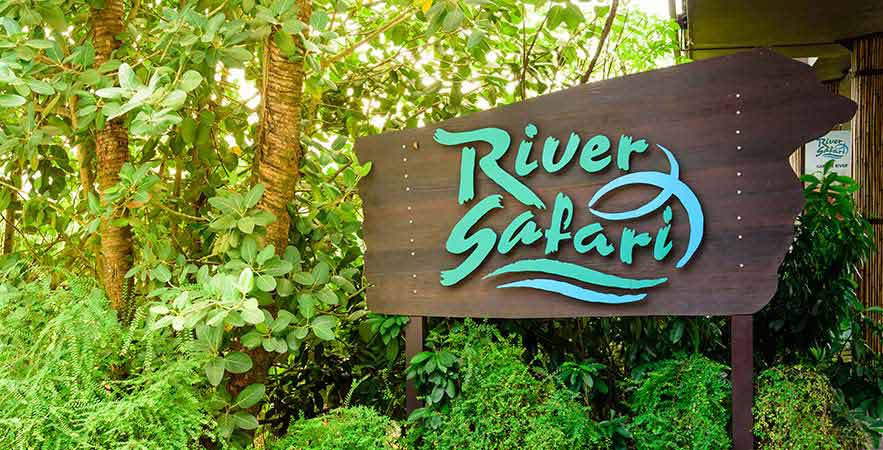 4.Wild Wild West
For those looking forward to a fun-filled, splashy experience, check out The Wild Wild West – One of the largest waterpark in Singapore. Located at Downtown East, this water theme park promises loads of fun for everyone irrespective of age. Teeming with adrenaline rushing water slides, thrilling rides, wave pools and the first ever white water raft slide in Southeast Asia, Wild Wild West ensures you have a memorable, watery fun day. The park is also popular among families as the facilities provided takes into consideration safety features and amenities for toddlers and babies.
5.Adventure Cove Water Park
Another option for those eager to spend a day in splashing adventure is Adventure Cove Water Park.  This water park cum aquarium lets its guests have an exciting time at thrilling slides and rides as well as have memorable encounters with marine species. There's lots to do here than just enjoying high-speed water slides and drifting on lazy pools. Here's an opportunity for you to enjoy a snorkeling session underwater and even pet a dolphin or touch a manta ray, all at one destination.
6.Jurong Bird Park
Jurong Bird Park is one of the most popular attractions in Singapore which you definitely shouldn't miss on your trip. Get yourself introduced with a colourful variety of bird species. Comprising of over 5000 birds of 400 species, this aviary attractions is where you get to see the flamboyant world of birds flocking amid a natural tropical habitat. The Jurong Bird Park boasts to be the only place in the world which has the largest flock of flamingos and holds the record for being the largest park with the most number of birds in the world. Watch in awe as birds perform acts and put forth their show in a simulated hunt. You can also choose to spend a night at the campsite amid feathery friends.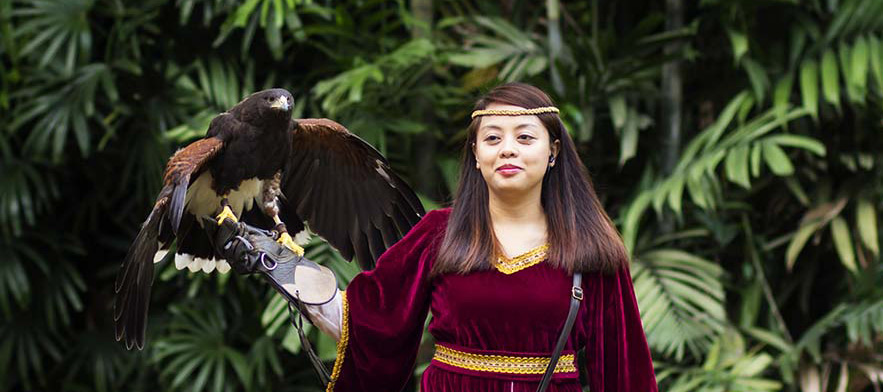 7.Port of Lost Wonder
For those travelling with toddlers and tweens, The Port of Lost wonder would keep their kids occupied in excitement. Set at Sentosa Beach, this is Singapore's first Kids Club filled with water play zones where kids can splash, slide and soak to their heart's content. This is one place where the excited squeals of young guests would never stop and you will probably have to drag your kids away from the pirate ship-like themed water arena when it's time to leave. Little tots and adults can thoroughly enjoy at the water play area, join in on interesting games and workshops and relish on an assortment of dishes available at dining zones.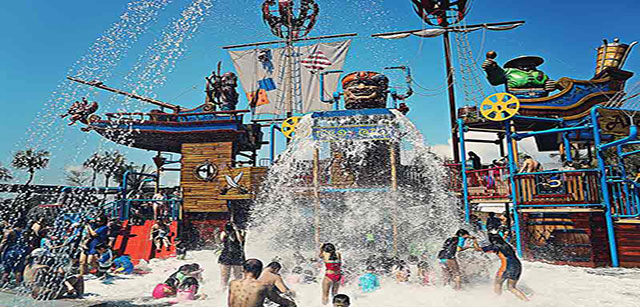 8.Haw Par Villa
While there are plenty of thrilling theme parks in Singapore, Haw Par Villa deviates from other parks and lets visitors take a journey through Chinese culture. Haw Par Villa is an Asian cultural theme park situated along Pasir Panjang Road offering visitors a glimpse into the essence of Chinese ethos in Singapore. This is a place where you can familiarize yourself with Chinese folklore, and enjoy viewing majestic archway entrances, oriental dioramas, mythological figurines, and sculpture while strolling around in serene open spaces. A perfect spot for a simple family outing and for taking loads of insta-worthy pictures.
9.KidZania Singapore
What do kids dream to become when they grow up? Here's a chance to let them live their dream and learn from an edutainment attraction at Sentosa. KidZania Singapore is an indoor city made for kids where they take the role of grownups. The experience lets them step in the shoes of an adult and learn responsibility in a fun environment. Here, they can be a doctor, a performer, a pilot, a cash officer or a chef… these are just a few of the roles they can take up. It's a great way to let children experience the real world from their own perspective and have fun as well while learning.
10.Science Centre Singapore
Another attraction theme park that is unusual yet fun to visit is the Science Centre Singapore. Though there isn't any adrenaline rushing rides, the experience would still be one of the most amazing one you have ever experienced. Step into the wondrous world of scientific discovery at Science Centre Singapore where you could get a first-hand experience in creative learning. There are numerous ways to keep you intrigued, awestruck and excited through a series of interactive exhibitions, live shows and movies. Apart from these, there are other fun activities to indulge in such as trekking to the centre of the earth, enjoying a snowball fight at Snow City, a serene stroll through Ecogarden or a stargazing experience in the observatory.