Anyone deciding to go on a Singapore holiday might already have listed all the popular attractions and iconic landmarks for their Singapore vacation checklist. Singapore is known for its urban flair while striking a balance with nature's splendor. However, Singapore being an island country has more than 'larger than life' man-made attractions and city sightseeing to offer its guests. Look beyond the mainland borders and venture into the surrounding waters to discover a collection of offshore hidden gems that are yet to be influenced by the tourism swell of Singapore. If you are seeking for something more than swanky skyscrapers and modern attractions, head to one of these islands set few miles away from the mainland Singapore. An excursion to these islands lets you witness an incredible experience that stands out from the usual Singapore vacation experience.Explore beyond towards the beauty of nature and solace on the shores of these top islands in Singapore.
6 Beautiful Singaporean Islands that You Must Visit
1.Sentosa Islands

There is no way you will miss visiting Sentosa Island while on a Singapore vacation. Set away from the southern coast of Singapore main island, this island was transformed into a fun playground where irrespective of age, visitors can have exciting adventures and fun time. Sentosa Island is home to a plethora of attractions, nature spots, and innovative entertainment. For hardcore adventure junkies, experience adrenaline rushing thrill at AJ Hackett Sentosa – Singapore's one and only bungy jumping tower. There are more adventures to explore such as experiencing an indoor skydiving experience at IFLY Singapore, surfing on giant waves at Wave House Sentosa or spending an exhilarating day at adventure sports at Mega Adventure Park. Kids can have a gala time having fun wildlife and aquatic encounters. Pet a Dolphin at Dolphin Island, watch parrots and macaques performing delightful tricks and marvel at hundreds of colorful fluttering flecks at Butterfly Park. Watch them scream in delight at KidZania, MOSH! and Adventure Cove Waterpark. SEA Aquarium and  Universal Studios Singapore are absolute must-see attractions on Sentosa Island.  A selfie with Merlion, a leisure cruise dinner on Royal Albatross, a ride on Sentosa skyline and Luge and spectacular 'state-of-the-art' shows such as Lake of Dreams, Crane Dance and Wings of Time are some other attractions and activities you would love to experience on Sentosa Island.
2.Coney Island
This island is a fantastic treat for nature lovers. Coney Island also known as Pulau Serangoon is located away from the northeastern coast of Singapore. The island isn't famous for its beaches but is a stunning nature's haven teeming with lush Casurina woodlands, coastal mangroves and the wide array of flora and fauna. A hike through its rugged woods lets you hear the symphonic sounds of birds in tranquil settings. You can even spot exotic birds on your hiking trip. You can even rent a bicycle for a biking trip through the island. For those who exclusively want to have a leisure experience can follow the boardwalk pathways which will eventually lead you to the edge of the island giving you amazing scenic vistas of the surrounding azure waters and the island.
3.Lazarus Island

One of Singapore's untouched spaces, Lazarus island is located in the South of Singapore. If you love the sea, sun, and sand with a touch of solitude, then Lazarus island is your ideal beach destination. One of Singapore's pristine beaches with fewer crowds, Lazarus Island allures beach lovers who would want to spend some time away from the city life. It is also a simple way of steering away from usually crowded beach destinations such as Siloso beach and East Coast Park. Lazarus Island gives you ample peace to enjoy a subtle day among idyllic white sandy beach settings and deep blue waters. There isn't much going on here; all you can do is to get relief from the chaos of urban life and relax for some quality time. Just take a ferry ride from Marina South in Singapore Island to St. John's Jetty and you will reach this slice of serene paradise to experience solemn isle moments.
4.Pulau Ubin

Life is pleasant when it is simple. An island set off the northeastern coast of mainland Singapore will prove it to you. Pulau Ubin is supposedly Singapore's last thriving villages and its ambiance is drenched in Singapore's bygone era. Time slows down here from the moment you step foot on its shores. The rustic charm fuses seamlessly with the island's idyllic settings. You get a glimpse of how Singapore was before it turned into an ultra-modern city. Explore the pleasures of simple islander lifestyle on a guided walking or cycling tour. The traditional wooden houses surrounded by lush forests and tropical wildlife make you appreciate the simple choices of making a living. A visit to Chek Jawa – one of Singapore's picturesque eco-system is a must. You can reach Pulau Ubin on a bumboat ride from Changi Point Ferry Terminal.
5.Kusu Island

An island tangled in mystical tales, Kusu Island is believed to be a giant tortoise that turned into this island according to the legends. The island also gets its name from this tale – 'Kusu' literally translates into Tortoise. Located in the South of Singapore, Kusu Island offers pristine blue waters and shallow lagoons along with powdery beaches for a perfect day to soak up the sun and enjoy swimming in tropical waters. Kusu Island has crystal clear water and a fascinating underwater realm which makes it one of the best dive zones in Singapore for scuba diving and snorkeling. The Island also holds cultural significance and is home to many holy shrines. While you can have a leisure day at the beach, you can also get an insight into Malay and Chinese culture with a visit to these shrines set on the hilly terrains of the island.
6.St.John's Island

One among Singapore's Southern Islands, St. John's Island is a picturesque isle surrounded by clear aquamarine waters. Once used as a quarantine station, today St. John's island offers an easy escape for city dwellers to reconnect with nature. St. John's island is around 30 minutes from Singapore main island and is near to Lazarus Island which is connected by a pedestrian bridge.  It is a great place to stroll on beaches, swim in warm azure waters, catch stunning sunsets and enjoy pristine nature hikes. You can also book a private yacht for a serene cruise on the surrounding waters of St. John's island.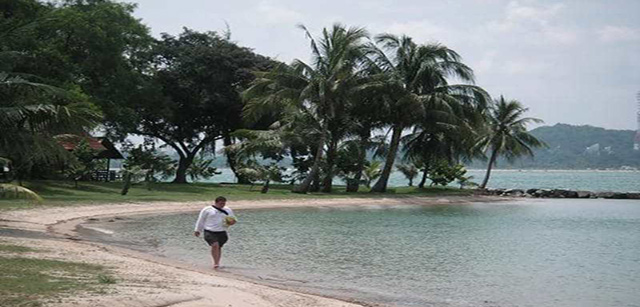 These offshore gems are just a gist of what lies in the vast expanse of sea surrounding Singapore. This island country has an assorted collection of around 62 islets. These islands are sparsely inhabited and since the tourist influence is also less, you may not find many options other than decent accommodation and rental transportation. But in a way, that is the beauty of exploring these islands. So that you spend few days as a simple island dweller discovering a solace seeking life before modernism changed it into a sophisticated, fast-paced life.