If you are planning a visit Singapore, you'll be amazed at the many experiences on offer. If you have decided to spend your hard earned money on a holiday to this island country, be rest assured of one thing, you are going to get all your, money's  worth. Singapore has been Southeast Asia's most modern city for quite a while now. Its population is around 4,500,000, and consists of a mix of Chinese, Malay, Arab, Indian and English cultures, traditions and religions. The city is a melting pot of cultures. So other than these cultural paradises, tourists can also explore places like islands, zoos, beaches, gardens, water parks, and shopping malls.
To aide your sightseeing, here is a list of must-sees in Singapore.
1.Marina Bay Sands
Marina Bay Sands is a must-see destination in Singapore. The resort consists of posh hotels, Art Science Museums, and the Marina Bay Sands Skypark. The upper deck of the Skypark and the infinity pool are a part of a ship, which is placed at the top of the hotel. Only hotel guests are allowed to use the infinity pool. However, tourists can use the observation deck. You can enjoy awesome views of the city, and see places like the Double Helix Bridge, ports of Singapore, Gardens by the Bay and many more.
2.Singapore Flyer
The Singapore Flyer is the second largest observation wheel in the world, standing tall at 165 metres. Once inside, you can see the Marina Bay's skyline as well as a small view of its neighbours, Malaysia and Indonesia. The ride lasts about 30 to 35 minutes with various packages being offered. A small tip, opt for the evening dinner package where you will be pampered with delicious food.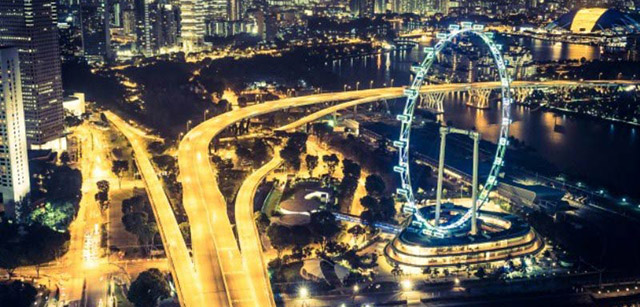 3.Night Safari
Opened in 1994 for tourists to experience wild animals in the night, the night safari has over 1.2 million visitors each year. There are more than 1000 animals to see. Trams have been allocated for tourists to journey and experience the fascinating animals. You can also opt for a VIP tram for a limited number of people with the help of a local guide. The safari usually starts at 7 pm in the evening and ends at 12 am midnight. The safari starts with Thumbaukar Performance by the local warriors with their special dance, flame throwing performances, and unique stunts. Then through the tour, you get to see the Himalayan foothills the Asian Riverine and the Wallaby Trail. Next up is the 20 min show called the Creatures of the Night, where highly trained performers perform with binturong (aka bearcat) and boa snakes. The tour ends with the Leopard Trail. Don't forget to try the Ulu Ulu Restaurant for some delicious fast food, and local delicacies. You can also opt for gourmet safari express for a more private time.
4.Sentosa
Sentosa is an island getaway nearby Singapore. It is a tourist hub for all ages, and for all beach and adventure lovers. You can get there by either a train, monorail car, or even on foot. Once you reach here, make sure to visit Butterfly Park and Insect Kingdom where you will be able to experience colourful butterflies and other varieties of insects. A visit to the Underwater World and Dolphin Lagoon is a also must, as it offers tourist an opportunity to swim with dolphins. You can meet and take pictures with dolphins and fur seals. Universal Studios Singapore is also a part of Sentosa Island, and a great place for families with kids. Here, there are ample rides and shows for children and adults alike.
Other places to visit are iFLY Singapore, Tanjong Beach, Palawan Beach, Siloso Beach, Megazip Adventure Park, and Crane Dance.  There are many places to visit in Singapore, but the places mentioned above, are a must see for everyone. Happy Travelling!