1.About Singapore
Singapore is one of the most prosperous cities in Southeast Asia. The swanky buildings, the amazing skyline and the luxury that you see in the city can be easily compared with any urban western city. However, while Singapore has adapted the Western influence beautifully, the Eastern culture of the place is still intact, and this is what makes Singapore a unique one. Another fact that makes Singapore different is that it not just a city but also a country too. Comprising of the main city and 58 small islands, Singapore is known as a city-state.
Visiting Singapore is a true delight. You get to see several interesting places and indulge in some exciting activities too. Nevertheless, before you begin to explore the place more, it would be great to know more about this amazing city-state. Here we present some interesting information about Singapore.

2.Brief History of Singapore
While today Singapore is known for its high rises and high standard of living, its history would take you to a land filled with swamps and jungles with a really low population. This city-state has been ruled by the Dutch, British, Japanese and the Malaysians before it gained complete independence in 1965. However, the credit to the Modern Singapore city-state would go to Sir Stamford Raffles, Lieutenant-Governor of Bencoolen, who worked for the British East India Company. Singapore became a major port for business between East Asia and Europe. Soon, Europeans, Indians, Arabs, Chinese and Malays started migrating to the city-state and today the popular of this city is 5.6 million, and it is also known as a global city.
3.Culture of Singapore
Singapore has a diverse population and this can be seen clearly in its culture too. The culture and traditions of the city-state have been influenced by Indians, Chinese, Malays, East Asians, South Asians and Eurasians. Moreover, the best part is all these cultures exist in the same place quite beautifully.
While Malay is the national language of Singapore, Tamil, English and Chinese (Malay too) are the official languages. Apart from the languages, Singapore also has different religions like Islam, Christianity, Buddhism, Hinduism, Taoism, etc. that exist beautifully together. The same can be said about the food of Singapore. The city-state celebrates world cuisine, and you would get to visit some amazing restaurants and taste some delicious food when you are in this incredible city.
Apart from the language, religion and food, Singapore also has varied customs and traditions as per the communities. Each of these communities has been able to preserve their customs while respecting that of the others. In others, Singapore can be definitely called a harmonious city.
4.Climate in Singapore
Just like the other Southeast Asian countries, Singapore also enjoys a tropical climate that includes humidity and also lots of heavy rainfall. As the place is located close to the Equator, it does not have definite seasons. On the other hand, the seasons are roughly divided into dry and wet. While the months between May and September enjoy a dry climate, those between June and August are known to be wet months. However, one thing you need to remember it can rain anytime in Singapore. The city enjoys two monsoons which are separated by inter-monsoon periods where you would be able to experience shorter rains. In short, it can rain anytime here. However, the sun shines throughout the year, making holiday in Singapore an enjoyable one.
5.Currency in Singapore
The currency used in Singapore is Singapore Dollars. One Singapore Dollar is equivalent to 0.73 US dollars.
6.Unknown Facts about Singapore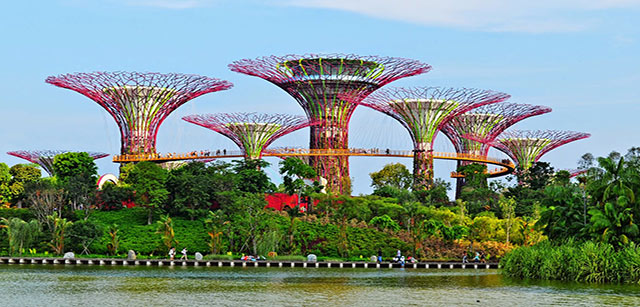 Although Singapore is quite a well known city, there are some interesting facts that not many people know about. Let us take a look at some of them:
Singapore was named Singapura (Lion City) after a Sumatran Prince believed that he saw a lion during one of his visits. However, there are no lions in this city-state.

Singapore is a country, city and capital, all at once. It is one large island and several small uninhibited islands.

You must remember that you cannot chew gum in Singapore. Buying, selling or chewing gum are illegal and get you severe punishment too.

You will find the world's tallest indoor waterfall (35 meters high) in Singapore.

The city-state has an indoor garden, Gardens by the Bay, which is home to almost 500,000 plants.

It is considered rude to open gifts in front of the gift giver. It is always best to wait and open it later.

The public transport in Singapore is really good. You do not need a private vehicle to roam around the city. There are plenty of taxis, buses and trains in the city.

Singapore is also a safe city. Due to the stringent laws and punishments even for petty crimes, the crime late in the city is quite low. It is quite safe to walk around the city even during nights.

Singapore has an island which is fully dedicated to entertainment, the Sentosa Island. This island is full of adventure parks, gardens, water parks and other interesting places.
All in all, holidaying in Singapore with your family would be one of the best vacations you ever have. So, book your tickets, pack your bags and get ready to fly to this marvellous city.